Favorite Recipe

United States
August 15, 2008 12:00am CST
Do you have a favorite recipe or one that you turn to in a rush or need? You know, the one you always have the ingredients for and can make without a recipe? So what is it? Share the recipe with us.
2 responses


• United States
19 Aug 08
I actually look up the rule since you mentioned it. It states as long as the original comment isn't mainly focused on a recipe, they will be allowed. So, this discussion has not been deleted - obviously. We will see how long it lasts.

• Philippines
22 Aug 08
So is it okay if I will post my favorite recipe here? Or would that break the rules and regulations of mylot. I read the terms but I don't get it because my grammar is not that good. Hope someone explains it as if I was a 10 year old. But I am not stupid it's just that I only use simple words and if I use a complex word it means I used the net to search for its meaning. Not bad right? Anyways please do message me if you have an answer to my question.

• Kuwait
15 Aug 08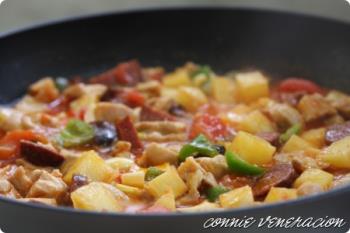 Yes I do have a favorite recipe and that is Chicken Menudo I call this my great extended recipe. See, one 800 gram pack of chicken thigh fillets can feed as many as eight persons if you know how to extend it. By adding vegetables, you double the bulk. But that doesn't mean you have to dilute the flavors too. Add a piece of chorizo de bilbao and your chicken menudo won't look like a budget noche buena dish at all. The same principle applies to pork but pork cooks twice as long. Besides, when the pork fat melts, the pork pieces shrink tremendously and you'll end up with much less meat. That's why I prefer chicken thighs. Ingredients:1 pack of chicken thigh fillets, about 800 grams 4 potatoes, about 400 grams 1 carrot 3 bell peppers OR 3/4 c. of frozen sweet peas 1 chorizo de bilbao 1/4 c. of raisins 1/2 kilo of plump tomatoes or 1 can of stewed tomatoes 1 large white onion half a head of garlic 1 bay leaf 6 tbsps. of olive oil (you can get away with vegetable cooking oil) salt pepper a little sugar Cooking procedure: Pat each chicken thigh fillet dry with kitchen towels. Cut each into small pieces, about 1-inch cubes. Season with salt and pepper. Peel the potatoes and the carrot and cut into 3/4-inch cubes (when the chicken pieces shrink during cooking, they will end up the same size as the carrot and potato cubes). Peel the onion and roughly chop. Peel, crush and chop the garlic. Core the bell peppers, cut off the veins and remove the seeds. Dice. If using fresh tomatoes, cut them up. If using canned, transfer the contents to a bowl and crush the tomatoes with your hands, leaving some chunks for a better looking chicken menudo. Slice the chorizo then cut each slice into three or four parts (extend it, baby!). Heat the oil in a large pan (non-stick pan is really useful). When hot, add the chicken pieces and cook until they change color. Next, add the chopped onion, garlic, potatoes and carrot cubes and cook for about 5 minutes over high heat. Add the rest of the ingredients. Season with salt, pepper and a little sugar (to cut down the acidity of the tomatoes). Simmer for 30 to 40 minutes. As with most stews, this chicken menudo dish is best after reheating. Serve with pan de sal instead of rice for a change.