what are your partner's (wife/hubby, gf/bf) habits and peculiarities?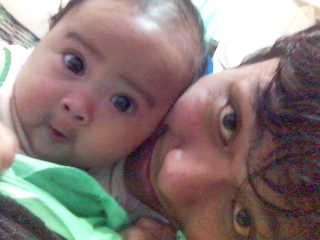 Philippines
August 15, 2008 9:43am CST
i thought about this discussion yesterday evening when we were about to sleep. i laughed inside for not having realized this before, but my husband has peculiar habits that he always does before my very eyes but for some reason, this is the only time i thought hard about them. for the three years that we've been together, my husband NEVER fails to brush his teeth just before going to bed. he already brushes his teeth after dinner and yet, he still has to repeat that before hitting the sack. i think he does that because he smokes after dinner (to get rid of the smell of cigarette in his breath, he knows i hate that). also, he combs his hair BEFORE going to bed. i always kid and ask him who he expects to date in his dream, but he continues doing it just the same. another one is that he likes to eat everything with ketchup. yes, EVERYTHING. even food with soup, water and what-have you (for Filipinos who can understand me, he puts ketchup in his sinigang. i know. eeww.) that's all i can think of for now. what about you? any habits and peculiarities of your partner that you might wanna share?:)
2 responses

• United States
15 Aug 08
Could you describe what singang is? My fiance has his own peculiarities, but I don't really mind. He likes a clean room, so if I go to dust, or if his mother dusts, he will rearrange things that we've moved. I've actually gotten where I'll tell him to straighten it because I know that he likes things just so and since I am living in his room (now our room but you get what I mean) and not the other way around, I feel as if I should let him do it his way.

• Philippines
15 Aug 08
its pork/fish/beef/shrimp with vegetables (radish, okra, eggplant, etc.) and tamarind-based. i dunno if that's the exact way to describe it but that's as close as it gets. it's actually one of my favorite pinoy dishes. oh! when compared to thai food, it's more like tom yam. :)

• United States
15 Aug 08
Oh okay I have an idea of what it tastes like then. I used to have a friend that was hispanic and she ate a lot of tamarind things. I've tasted it myself, and it's kind of sweet spicy, so I know what you mean. I don't think ketchup would taste very good with that then, especially if it's prepared a certain way! Or with certain other "sauces"

• Philippines
15 Aug 08
well..sinigang is not spicy. it's sour all the way. and yeah, that's why i consider it peculiar. it's because there's nobody else i know who does that.

• United States
15 Aug 08
My husband really doesn't have have habits that bother me.. I love everything that he does... NOW he is OCD on some thing.. but that is good for me cause i am very disorganized on alot of things and he help me organize stuff... I like that about him..