Is tropical storm Fey heading for us in SouthWest Florida?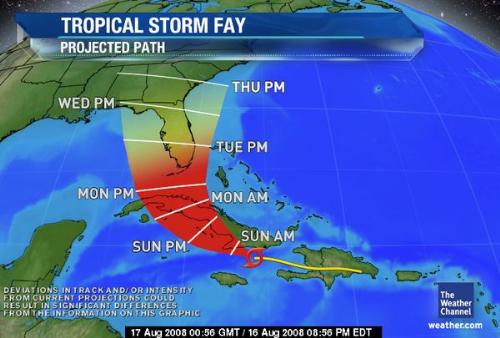 United States
August 16, 2008 9:46pm CST
There is tropical storm Fey out there. We are a little bit concerned here because of how quick this went from a disturbance to all the sudden boom! it was a tropical storm. no depression or nothing. they are thinking it will turn into a hurricane.... Is anyone else keeping an eye on this? I am in southwest florida so you know we are definately keeping an eye on it. I am definately not ready for no tropical storm and especially not a hurricane!!!

1 response


• United States
17 Aug 08

Yea since i have kids i am thinking more of their safety then my own. I definately dont want to stay here if its going to be bad. We are keeping an eye on it and lets just hope its not a bad one. with the way gas prices are and all that there is no way we can go too far away.. we'd end up getting stranded somewhere because putting gas in the truck would run us dry!

I will keep you updated on it but im sure alot more then just me have their eyes on this storm. especially floridians like me!!


• United States
17 Aug 08
Like I told you on the phone this morning, if the winds pick up you guys can stay over here Monday night...or go to Tony's if you'd rather do that. If it's too strong for us to feel comfortable we can all go do David's shop and, if we need to get out of town, we'll work out the transportation issue. We're not going to leave you guys stranded or in a potentially dangerous situation.

The yard looks good, by the way!


• United States
20 Aug 08
Well we survived!! i guess thats what matters most! Scarey scarey moments but we made it!