Mother gives birth to SEVEN babies in a time..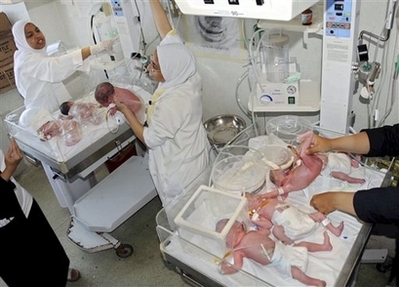 India
August 17, 2008 12:08pm CST
Just now, i finished starting a topic similar to this where a 70 year old, gave birth to twins, a boy and a girl.. and regretted for having a girl child.. http://www.mylot.com/w/discussions/1657384.aspx But this one is quite similar to that.. but no regrets for the Egyptian Mom,who gave birth to seven babies in a single time....Four boys and three girls..All fine.. http://news.yahoo.com/s/ap/20080817/ap_on_fe_st/egypt_septuplets;_ylt=Av0JoAIEeikYJE.bi35MXqkuQE4F But the common thing in both the topics i found is that both of these Mom, wanted "SON".. and not girls.. And this idea irks me a lot...What do you think friends? Thanks for sharing your views.
5 responses

• Guangzhou, China
22 Aug 08
Boys and girls are the same. They are all precious for a mom. Since I have a son, so I hope to have a girl. If I had a girl, then probably I would also hope to have a son. These moms are quite lucky because they have both but sad to say they don't realize it. Why just pay attention to boys only? I love China




• Singapore
20 Aug 08
Wow,what's a miracle.I could not imagine how the pregnant mum figure looks like while the babies still in her stomach.Its such a sweetness to get seven babies at once.Some more,all seven are healthy.Not every women could have this opportunity. On the other side,they have financial problem,its kinda sad to hear bout that.God have the ways to lead them. Thanks for sharing the news.=)

• Davao, Philippines
18 Aug 08

so many..so strange ..i hope that all the babies will survive as the days goes by ...having seven babies are a blessings to the Almighty..just wish that all are well with the infants...its normal i guess for parents to have preferences on the gender of their babies..

• United States
18 Aug 08
You also have to remember that most eastern cultures find honor in having a boy and shame in having a girl. Heck, India outlawed sonograms because the parents would abort the baby if it was a girl. I don't know if they still have that law, but I know at one point they did.

• United States
17 Aug 08
To me it wouldn't matter. Everyone has their preferences, but I am sure that they are happy with their baby any way. I know I would be happy. When I become a mother I want a daughter, but if I wound up having a boy I would be happy period of just being a mother.