A story of disaster averted - summer edition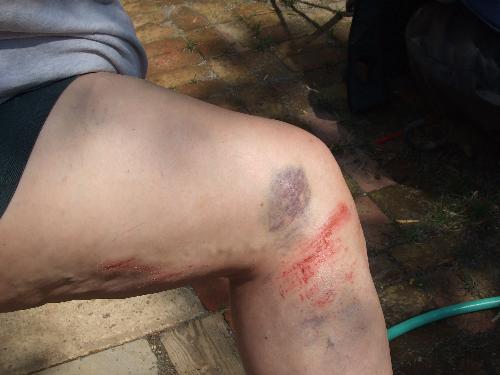 United States
August 19, 2008 4:04pm CST
Was in Philadelphia recently for a doctor visit, took my companions to one of my favorite spots in Fairmount Park afterward. It's been a few years since I've been there, and there's been quite a bit of erosion along the hillside leading to a favorite spot. There was a natural "staircase" of tree roots down the hillside, obviously used as the main way to descend it. Being fat but fearless, I led the way down. On the third "step", the root snapped, sending me headlong down the rocky slope. The fall was about 15 feet. Obviously, I survived, posted a picture of the results below. Here's the wild part, though: had I not reacted quickly to tuck and roll down, the trauma to my knee would have happened to my skull. I'm no neurologist, but I think it's fair to say that would have been a life-altering head injury. For the most part, my life is pure shite right now. I feel very blessed to have this bit of good fortune fall my way. If this is the only good luck I have this year, it's definitely the right bit to have had!
5 responses

•
20 Aug 08
OMG sweety! That looks very nasty and extremely painful and I am so glad that it was your knee and not your skull that took the impact! I always get excited when i see you have posted and I am so sad that things aren;t getting better for you. Hugs xxx

• United States
20 Aug 08
Hi, mummymo! Sorry to hear you've been in even poorer health lately, I do hope you start to feel a bit better every day. It was pretty nasty, but for once I had some sense and got ice on it within the hour. That helped a lot! I'm working on a post about the truly effed-up things that have happened these last few months, but it's really hard to dredge through it all. I'll get it done soon though. Big, healing hugs for you!

• United States
20 Aug 08
At first I was going to ask you what a Wissahickon Creek was but went to the actual discussion and then it made sense. Okay, well I'm glad you didn't get hurt further. I once fell down a waterfall and got a big bruise on my thigh, it smarted but it got better, I also had scratches. Needless to say I didn't try going up the waterfall again that day, and have no plans to go back atleast not to that particular patch of water. Glad that you are okay, again.

• United States
20 Aug 08
Thanks, SomeCowgirl! I really love this particular place, so I'll probably be back there some day, but not too soon!

• United States
19 Aug 08
Glad the injury wasn't more serious. have to tuck when you fall at all times to protect vital parts and or organs. HAPPY POSTINGS FROM GRANDPA BOB !!~

• United States
19 Aug 08
Thanks, grandpa Bob! Good to "see" you again!


• United States
21 Aug 08
That really sucks. It is a good thing that you didn't get hurt really bad. I bet it was quite a surprise for your friends too. It is definitely not something you are expecting.