The Sims 2 for PSP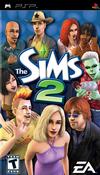 United States
August 21, 2008 8:23am CST
Last week I bought The Sims 2 for my PSP. I love the sims!

So when i started playing it i loved how they had tasks to complete! Then after playing this game for 2 days I realized I beat the game!

That was it! I was a little disappointed because I thought it was really really easy!

So my question is... does anyone else feel that the sims 2 for psp was easy to accomplish?
4 responses


• United States
28 Aug 08

What!!???

You have never heard of "THE SIMS"?? Well it's where you control little people and live their lives for them. Like get them jobs, and friends, and make babies. Some you can travel the world, holidays, college, and magical ones.



• India
24 Aug 08
lol no , for me it was hard so i got the cheats from net and completed the game also after you complete the game its just like wandering around with no target cause i have collected all secrets and chatted


• United States
21 Aug 08
I do not have the sims 2 castaway for the psp just the regular sims 2. I think the castaway will be next though. but I think the sims 2 regular was just to easy because i beat it in 2 days.




• United States
21 Aug 08
oh if only I had the money for it!! maybe that should be what I use for my next mylot money for!!! :D I lovee the sims 2 but I have the ps2 and pc version and I'm not a fan of the ps2, do you know if psp is like ps2 or something different?

• United States
21 Aug 08
The ps2 is different from the psp.

In psp you get goals to achive and things you have to find.

You have to find out secrets about people by becoming their friends, enemys, or lovers. Its fun but it was just way to easy to beat. Do you have a PSP?