New Group at Squidoo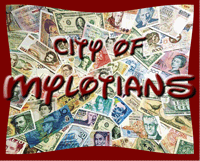 Spain
August 22, 2008 3:45am CST
Just for all of you. I have started a group called the MyLotians at Squidoo. Go join and we can all have fun over there too. Its refreshing to see so many Squidoo lens masters as members of Mylot. I thought I was going to have to encourage people to join, but here you all sit awaiting my invitation. http://www.squidoo.com/groups/mylotians This is not a referral link!
4 responses

• United States
6 Sep 08
Hey there Ritz. I just put in all 5 of my lenses to join your group. Thanks for creating the group! Might be just one more encouragement to get me back to squidoo and to blogger. I haven't been writing on either much since my son-in-law was killed the first part of June. It is so much easier to write here than it is there. At least here there are topics already set up to respond to. There I have to figure out what to do on my own and my mind just isn't working in that way yet.

• Spain
6 Sep 08
Choose a subject hon, maybe what could be good for you right now is to write about loss. I know, I lost my husband 8 years ago and he was only 41, so I understand how putting on paper (or in this case electronically) can ease the burden. Maybe you can put some helpful links that will assist others through their own loss. Im not trying to tell you what to do, only trying to guide where you may be able to help others. Let me know if you want to chat privately about this.

• United States
9 Sep 08
Those are very good ideas, and probably I will be able to do that one of these days. It is just too fresh right now. Then this weekend, 3 months after my son-in-law was killed, my soon to be daughter-in-law was in a head on collision in the country and had my little grandson, her little daughter, and my unborn grandson in the car....thankfully, no one was hurt and all were released from the hospital. She had to stay overnight just as a precaution because of the pregnancy. But it was really traumatic for me as well as for my daughter when she was told about it. For right now, though, writing about the pain is just too painful. Writing about what is going on with the family is too difficult. It is so much easier to write here on mylot where topics are already here for you. Thanks for adding my lenses to your group. I will be checking in from time to time to see who else is there from mylot. That was a good idea starting that group.

•
1 Nov 08
Hi-di-ho Ritz, following your kind comment on one of my Squidoo lenses, I've sent an application to join your group. I'm still fairly new to Squidoo, so I'm not completely sure how the group thing works (something like a web ring, I expect). Thanks for setting the group up, hopefully there'll be a decent number of members before too long. Cheers, Stuart

• Spain
15 Nov 08
Thanks for supporting the group stuart, I will be trying to promote the group on here, so with some work we can increase the numbers, I have been very neglectful of squidoo lately and really must get back to working on it. Your joining has prompted me to get more active. Maybe you could let people know too?

• India
6 Sep 08
I have registered with them. How to start I am unable to go ahead. Please tell me how can I start squidoo lens master.Please post me detailed lesson I will start right now.

• Spain
6 Sep 08
When you joined there should have been a link for you to start your own lens. If you cannot find this, I have Pm'd you a link where you will need to be ready to start a lens, right now! Be prepared, you need a title, a subject and a link name. You can add to and change everything later. But be ready with a subject that means something to you, its the only way you will ever be able to truly write, you must have feelings about your subject. Please read your messages there is one from me there.

• United States
9 Feb 09
this is a nice idea. i have 2 lenses that i have written about famous artists in history. i can post the links to them here: about Georgia O'Keeffe: http://www.squidoo.com/gokeeffe this lens is about Frida Kahlo: http://www.squidoo.com/kahloartist