I get 24+ referrals on this site!But I feel I am still poor!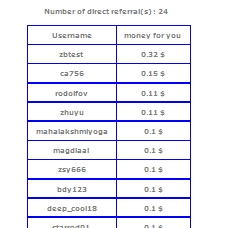 China
August 23, 2008 3:17am CST
Last month I joined a ptp site called PTP4ever,The site accepts any traffic and treat them equal.The price is high,from$0.8 to $2/cpm,and no tigers. At that time I was very pleased to join the great site because it always pay me in less 24 hours.But I have a problem now I have 24+ referrals one the site,and the site says that "you will get 50% of your referrals' earning ".But in fact I feel my money don't increase very fast as I expected.You know I have 24 referrals!Anyone is doing this French site?I can't understand.Look the picture I post! PS:but I have to admire the site is really better than any other ptp sites even Donkeymails,if you are interested please visit my profile.
3 responses

• Malaysia
23 Aug 08
Actually, what do you want to do? Join the site under you? Since you seemed unhappy with the site, you still want us to join?t


• Malaysia
25 Aug 08
I have joined the site and installed the banner in my blog. But every time I open my blog, a few pop up will appear. I hate pop up. Wonder whether there is anyway to turn them off.

•
26 Feb 09
I hate that site! loads of popups and framebreakers, its so annoying. Your referrals are probably just inactive.