Man marries a dog to REMOVE HIS CURSE!!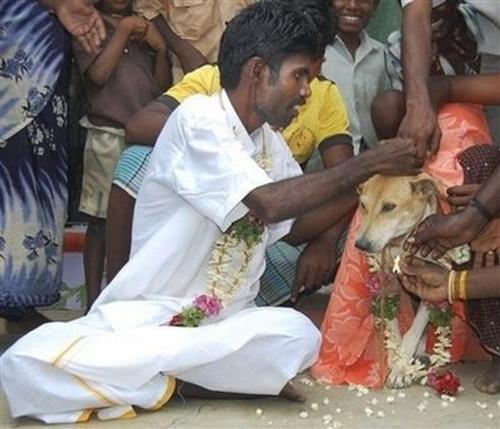 India
August 23, 2008 11:07am CST
Of course this news was from archive..and i read once, and twice.. and i cannot believe this.. and it happened in my state.. http://www.thatsweird.net/news46.shtml This man Selvakumar, married a female dog named SELVI, reason..to atone for stoning two other dogs to death and stringing them up in a tree 15 years ago. I wonder why people are so superstitious in nature..of course stoning to death.. is a sinful act.. Will this clean up the sins done by him? I guess it will not? Hey..you..i could guess what your doubts are now? Its not in the story whether the marriage ended only there or even progressed further to honey moons !!
9 responses

• Davao, Philippines
24 Aug 08

yakkk..whats the matter with that man so religious and superstitious..and wondering too why the officiating pastor or whatever they called their high priest tolerated this kind of practice..i cant read the referred site..

• India
24 Aug 08
When you give money.. the pastor or priest can officiate anything...



• United States
23 Aug 08
Sometimes people do strange things but I guess for what he done to the dogs 15 years ago. He had to fix the problem, it seems like no one has a problem with him wedding the dog. You can only respect other peoples culture for what they may believe. I can't see someone doing something like that but for what ever reason he did. I can't say it's a bad thing or a good thing. I just know that sometime people do some strange things.

• India
24 Aug 08
Cultures and practice i always respect, given that it belongs to any country. Now twallace, what i mean here is, a good deed done by us now, cannot compensate for the sin that we have committed earlier. It is not just like balancing of account statements.. Make a debit entry, and follow them with a credit entry.. Net result, you get off-set. That does not apply to this, man has to suffer for his sins, completely.. an no short cuts to it.. and definitely we will be rewarded for their good. Hi Twallace.. why i describe here in length the belief of my religion is that, it so happens that this man is from my state and HE TOO COMES FROM my religion.. Well, definitely he will know very well the religious beliefs and sentiments prevailing in the society of ours..and even after knowing that, the pity is that he tries to neutralise his sins. Cheers and have a nice time friend.

•
23 Aug 08
Hello saivenkaat802003 How ridiculous!! I have heard that this woman has married the Berlin wall not that I am sure there is much left of it. How can these things be legal? It's not that the other animal, object or whatever can actually have a say in the matter!! I dunno some people!!

Cheers friend



• Guangzhou, China
24 Aug 08
I think this man is just quite stupid. I can't believe it will give him any lucks but others laugh only. I don't like superstitious people. We shall believe in the science. I wonder whether whether there will be a woman wants to marry to such kind of man. I love China




• India
24 Aug 08
Yea.. it is stupidity at its peak.. Thanks for sharing your views youless. Take care of your health.


• India
24 Aug 08
What crap is this!!!! Is this guy some retard??? He sure is one. Marring a female dog.. Gosh this is so Insane!!! The dog must be wondering what the hell is going on??? This guy needs treatment and should be sent to a mental hospital i feel. One of the most dumbest things i have ever heard of. An i don't think his sins are gonna be forgiven by marrying a dog. If he was really sorry and repented obviously his sins would have been forgiven. God made a man for a woman and vice versa not a man for a female dog. If he ever goes for a honey moon that would be so gross...Ewwwwwww...Yuck

• United States
24 Aug 08
People have different cultures, I guess if he believes that will lift a curse,then so be it,let him do what he wants, this is why there are so many problems in this world, because people cant leave others alone,it's always about your doing this wrong so we are going to invade. Or we don't like your religion so we are going to invade. I think people need to get a grasp on what others do and accept that. If this story is true,then I hope it lifts the curse. However personally I don't believe in curses.