should old people spend money to being young ?

India
6 responses

• Lubbock, Texas
23 Aug 08
I think that is totally up to the individual. If a woman has always paid close attention to the way they look when they were younger, they feel better about themselves if they continue to do so when they get older. The bad thing is that some older people try to wear clothes that were made for skinny pre teens and it doesn't make them look younger, it makes them look ridiculous. Some wear the same type of makeup they did when they were younger and that doesn't work well either. If they have the money to spend, it isn't a waste, it's their way of keeping up their self esteem. Some of them would do well to get some professional tips on how to apply makeup to fit with their skin type as that changes with aid.

• Lubbock, Texas
23 Aug 08
disregard last sentence. I meant changes with AGE not aid.

Time for me to get off here.

• China
30 Aug 08
i think it is no necessary to spend money on this.old people have experienced so many things in their life,so i think they don`t care about whether they are old,the important thing they should do in their old age is to share life,they need have a real,quiet life,rather a lively life,if they want to be look like younger,i think the things they should do are not spending money to being young,because money can only make their figure to be look like younger,rather their heart,so the real young is not their figure,it is their heart!

• India
29 Aug 08
Whats wrong in old people trying to be young? Indeed it can improve their lifestyle and give them some confidence in life which make them feel still young and active.



• United States
24 Aug 08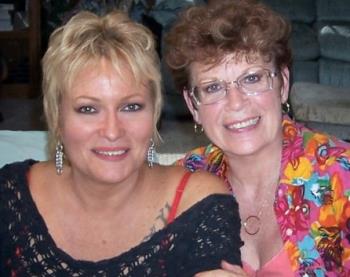 I don't think there is anything wrong with wanting to look your best whether you are male or female, young or old. A person who takes care of themselves just shows they have respect for themselves. Personally the better I look the better I feel. If I dressed like an old lady, wore no makeup or never styled my hair, I would feel older. I'm 49 yrs old and have several health problems, but mentally I don't feel any different than when I was 21. My mother is the same way, she's 69 and nobody would ever guess her age to be that old. Heck she's got more energy than I do! She has a great attitude and looks wonderful for her age. You can see us in the pic. We're doing pretty good for a couple of old ladies.

I really don't spend a lot of money on myself. Most of the cosmetics and skin care products I use I make myself. I do my own hair too so no expensive hair cuts or coloring. Mom does go to the beauty shop every 6 weeks or so but I don't think that's too much. I say, if it makes you feel good, do it!