Curious Cat Names

United States
August 25, 2008 12:33am CST
I have seven cats in nmy house right now and their names either come from a characteristic or quirk about them. Selene - named after Selene from Underworld because she is so ocunning when she hunts birds Houdini - because when we tried to put her back inside she would magically appear back inside the house Oliver - because he was a little orphan kitten that we found in an alley Spice - because while she is cute as a button and cuddles you to death she has this spicey, mischievous side to her Sugar - he is without a doubt the sweetest of the bunch, he never does anything bad Salem - because he is a little devil Hope - ahh my little hope who was the runt of the letter and nearly died Well there they are. How did you come up with the names for your cats? Liv
3 responses

• United States
25 Aug 08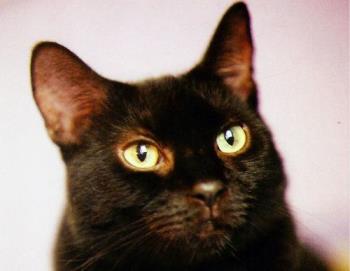 I've had cats ever since I was about five years old...my mother actually named her..giving her the name of Babette...why no idea...later on their was a Friskey, Snoopy, Biddy, Patchouli...and on and on. I've gone through Japanese name phases, naming cats Sachiko, Koniko, and Keido..Native American phase (I'm part native) with names like Cheyenne, Dakota, Lakota, Geronimo, Tootoosis..I had a Bibbity Bobbity and Bo.. My two current kitties are Pyewacket, a black cat and was the inspiration for my user name, and Kissy...no idea why I called her that but she had a sister I adopted out named Missy..and she's a tiger striped cat...Here's a picture of Pyewacket...he's the same one in the cats interest picture.

• United States
25 Aug 08
And to give equal time so she doesn't get jealous...LOL...here's Kissy

• United States
25 Aug 08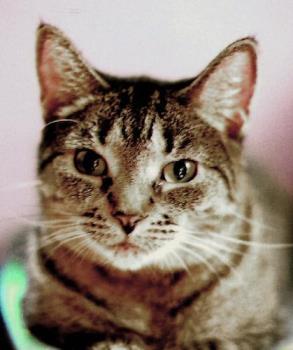 oops forgot to upload the picture.

• United States
25 Aug 08
Aww, they are both adorable! Those are some clever names I must admit. Somem other names I have used are Angel, Jewelian, Oreo, Twinkie, Chewy, CC (crazy cat...lol), Darlene (no idea why my mom picked that), and Sammy. I know I have had more but I really can't think of them at this moment. LOL. Liv


• United States
25 Aug 08
My one and only cat that passed away just one or two days ago was called "Bartoes." I guess you could say his name was very silly. "Bart" came from his personality -- he acted just like Bart Simpson, stubborn but sly -- and "Toes" came from his love for licking toes. He sure did live a full life of 20 years! Perhaps he was even older. Who knows?

• United States
25 Aug 08
Aww how sweet. I am so sorry about your loss. Judging by his age, I believe he was well cared for, loved you very much, and led a good happy life. I believe that cats thrive on the love of their masters. Thank you so much for sharing that with me, though I know it must have pained you. Just remember all the good times you had and your hurt will heal. Liv

• United States
25 Aug 08
I had two cats for a while. One was small and black, and his name was Vlad the Impaler, Voivod of Wallachia, etc. etc. It's basically Dracula's name. :) We of course just called him Vlad for short, and he was occasionally Vladimir when he was being naughty. I wanted to name the other cat (Vlad's mom) Elizabeth Bathory, but I told my roommate that she could name her, because the cats belonged to us both. So she toyed with either Moxie, Guinness (because the cat was similar to the color of Guiness, with the foam), or God. We called her Moxie, but her full name was Moxie Guinness God. :)

• United States
26 Aug 08
LOL. Those are some great names. Thank you for sharing. I like the reason behind Guiness. Hmm, now I need a drink. Just kidding. Liv