Is it possible to earn $100 in myLot in a month?

India
9 responses

• India
26 Aug 08
I don't think its possible. You can make up to $50 per month. This can be achieved only if you work so hard over here. You will just get exhausted. You can easily make $20 per month. More than that is so difficult. In case if you have SO MANY active referrals you may achieve that $100. Mylot doesn't rent referrals. Its possible for people to join in mylot without a referral id also. In these circumstances, getting too much referrals is not possible. Try to make $40 per month. That will be a great amount of course.

• India
26 Aug 08
Thanks dear. Do you earn more than $20 per month?

• India
26 Aug 08
Nope. I just joined 15 days back. I reached the payout level of $10. So just a small calculation that one can reach $20 with little effort.

• India
26 Aug 08
Within 15 days, you reached 474 posts. That is really great. Keep it up.


• India
26 Aug 08
Its a tough ask to be frank. As the above post says, you gotto have a lot of active referrals. I personally think if one has no referrals, he can manage something like $10. I aim for that. Wishing you the best..

• Turkey
26 Aug 08
well that would be only possible if you have enough referrals i think , sometimes i make 2.50 dollars by myself on mylot but this almost takes my all day so if you spend your all month here and be creative enough every minute posting new response, create new discussion you might earn 100 dollars for month , but that would be so boring to use mylot like that , your first priority should be enjoying and having fun at mylot , anyway happy mylottings




• India
26 Aug 08
Hi 100$ means around 100,000 posts if you are not having any active referral. And that's near to impossible! Only consideration is if you are having loads of active referral and you are posting like deluge. But I don't see anyone there. So its a bad idea!



• India
26 Aug 08
Yes, I think it is possible, provided you have referral income and post like crazy. I knew a Mylot member who could make up to 80 dollars per month. Yes, it is possible. Cheers and happy mylotting

• Philippines
26 Aug 08
Try to answer just about every discussion here in mylot now, for an average of 500 words per response, rate all of it, post about a thousand photos, and post a thousand new discussions with at least 50 responses each, an maybe you'll get it. Hmm..it may be possible if you got like 10 computers with people working on it 24/7, but then mylot will think it's an abuse and find a loophole in the TOS to kick you out... So I think it's nearly impossible, but then achievable. But then really scary to do.

• India
26 Aug 08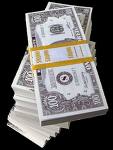 I think it is possible. But you should have the support of a good team of hard working referrals.Go ahead and try. Good luck.