This was my birthday cake!!!!!

India
9 responses

• Philippines
27 Aug 08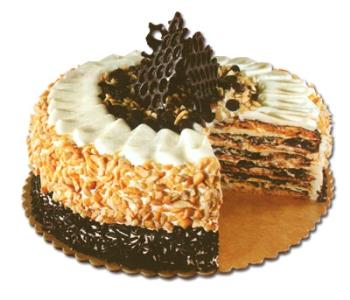 Oh it was so sweet of your Dad! You're blessed to have such a thoughtful father! The photo you've added made my mouth to water and crave for my favorite cake as well. I am also fond of chocolate cake but I would not want it pure chocolate I want it mixed with other ingredients to enhance it's taste like the luscious favorite cake of mine which I believe is the best cake I've ever eaten. It's the Chocolate Marjolaine from Red Ribbon bakeshop. It has layers of meringue wafers filled with praline cream, topped with rich chocolate, roasted cashews and a tower of premium chocolate. Hmmm, so magnificent! I love it's taste... it's not too sweet but oh so tasty. It's so different from the other cakes I've tasted and most of the time I would really crave for it. I was so glad that last birthday of mine that was the cake that my Boss ordered for me. I really had a grand time feasting on it. I don't know! I can eat as much as I want of this cake and I never really lost my appetite for it. I'm somewhat addicted I believe! I've added an image here to complete my description. This cake is superb! I love it!

• India
10 Sep 08
My mouth started to water. Its a awesome cake,I would like to have it once. Thanks for sharing!!


• China
1 Sep 08
How beauti the cake is.How happy you are. Belated blessing--happy birthday!!~~~ I like chocolate cake too.Every birthday,my friends will present chocolate cake to me.

• India
31 Aug 08
That was really nice of your dad.Its always interesting when your dad loves you so much. it geels important whwen he goes out of the way to get the favourite from your dad. Even my dad brings on the best flowers on my birthday. When it comes to cake, I like chocolate cake. Its really nice and yummy. I simply can not resist a chocolate cake.

• Malaysia
31 Aug 08
Very thoughtful of your dad to give you a cake. Well as for me, I like chocolate cakes too - chocolate moist cake, marble cake, butter cake, layer cake and mooncake. I used to be an anti cake eater but after I got married, my husband influenced me to eat cake. and I find that its not that bad except for those with lots of cream and icing. Those I don't like because its too sweet.

• India
28 Aug 08
ya i2 like chocolate flavour cake.belated wishes for u.

• United States
27 Aug 08
Bein from the South I LOVE red velvet cake. That was what my weddin cake was made of. It was DELICIOUS!!!