How protective a rottweiler can be?.....Just read it!!!!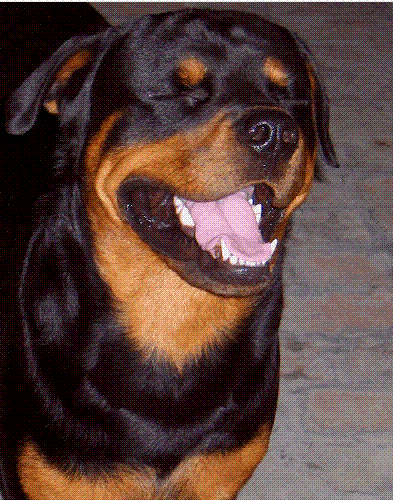 India
August 27, 2008 4:28pm CST
It has reported by the BBC that a South African Rottweiler named Blade, in Johannesburg helped rescue a two-year-old boy who was being mauled by a pit bull terrier, BLADE fought the other dog that was pit bull terrier to free the child. The pit bull attacked and has been dragging the toddler down the road while the little guy was walking with his grandmother and would not let go, despite being kicked and beaten by residents. One of the neighbors, Ricky Veludo, came to help and then went to fetch his dog, Blade. Who saved the child after a fight. The boy was then rushed to hospital where he is recovering from bites to his face, legs and stomach. You can copy paste the link below: http://news.bbc.co.uk/1/hi/world/africa/7584063.stm Thats why we (Rott owners and admirers) proudly say that the Rottweilers are the best Sensible and Loving dog yet the most powerful one.
4 responses

• United States
11 Sep 08
I love this!!! I am a proud owner of a 10yr old female Rottweiler. she id the best dog i have ever owned and i will never own any other kid of dog. Not only are they smart ,responsive, and quick thinkers, but Rottweilers are also the biggest loveable babies u will ever meet.My dog has never had to defend or fight but i believe whole heartedly if she had to, there is no doubt in my mind that she would make smart decisions and be a quick thinker. I hate hearing peopl put Rottweilers down, they think just because they are huge they must be dangerous or scary...people like that really need to have a reality checkand stop judging something the obviously know nothing about. I honestly believe that the only people that can stick up for our big babies (Rottweilers) are thier owners. So i am very proud to be a Rott owner and lover. I honestly couldn't ask for a better companion other than my children.

• India
11 Sep 08
Long live the rottie lovers:), Hey Kim' As you are the experienced and proud owner of female rott for a good time, I can understand that you will never own any other kind of dog, as your heart is own by the the smartest, lovable and sweet companion rottweilers. Same is the case with me as you said it right that. Only the owners or lovers can experience the divine purity inside a tough and hard looking rottweilers. Also if you have picture of your female Rott please share it here on mylot...!!!! Do you have any baby of her with you, if she had? And do share her name also.. mine male rott's name is "Panther"

• United States
28 Aug 08
I've always loved dogs. But when I moved from San Francisco to Rhode Island (we moved in with my boyfriend's brother) and I met Chauncy who we call 120 lb. puppy although he's a few years old, Rotweillers are my favorite dogs. He's smart, very protective and wouldn't harm anyone as long as he knows your not a threat. As I'm new to my lot I don't know how to post a picture yet but if you want to see a somewhat distorted picture of this beautiful dog go to gandergentry.com/Chauncy, this was just a sample web page I made for a client.

• India
29 Aug 08
As you have personal experience with the rott, you have truly felt what you said like rotts are protective and not harmful till any adverse situation and yeah rotts are the best and favorites if anybody has personal experience with them. Thanks for sharing the pic of your sweet rott 'Chauncy' with the link u posted.

• United States
8 Nov 09
Not only are they sensible and loving they are extremely smart. Our Rottweiler knows everything you are saying from "Get the Kitty", which is a game for her to find the cat, to finding lost or hidden items that our seven year old granddaughter will hide for her. Duchess is truly the most unique dog we have had. She does not let our granddaughter out of her sight and will play tirelessly and babysit for hours. I would not hesitate to recommend a Rottweiler for a family pet.

• India
9 Nov 09
Absolutely! I use to give their example as a perfect blend of power and smart intellect - Best Wishes to You, Duchess and Your family!

• United States
24 Jan 09
We have four dogs and they all think they are little boy. The man that live next door had a pit bull. He was one of those biker types or actually what we call a want to be. most biker are nice people. they just want to be them self's. but,any way the biker pit got into my yard and was after one of the smaller dogs. a minpin the minpin ran into the house with the pit on his tail.the big rott grab him by the neck and with a flick of his head put him back out the door.my wife and i was seating at the diner table talking.the pit hit the ground running home he did not want any part of the big rott. i went over to the biker house to check on the pit.see if he was ok. the biker was working on his bike outside and had see everything. he a few off the wall remarks about the rott was luck the pit did not get mad.but that pit stay in his yard the remainer of the two years the biker lived beside us. our daughter and her husban has two pits and they have never had any troubles from them. it the way you teach them to be