When can you say the girl or guy is flirting??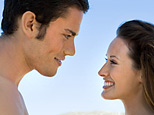 Philippines
August 29, 2008 3:00am CST
Flirting, we always use the word flirting if we think that certain guy or girl is trying to be sweet outside the relationship, we use the word flirt when somebody is trying to seduce us, the question is in what point we can say that someone if flirting???
3 responses

• Philippines
30 Aug 08
hi there. i can really say if a guy or girl is flirting if: first, that person is always looking at you. he or she would ask for a number and would always text or call. if he or she is always asking you out. :)

• Sheboygan, Wisconsin
29 Aug 08
To me there is a big difference between flirting and just joking around. I might say or do the same things when I'm just joking around with someone, but flirting has a point, joking around is meaningless fun.

• Canada
29 Aug 08
I beleive that flirting is only constitued as well flirting when the man or woman acts differently than most guys act around you and the oppisite for a guy. If they say cute little things once in a while that's flirting but if they say it so many times you call your mom his or her name that's obsession. Well that's my opinion.