Are you satisfied with your country's president?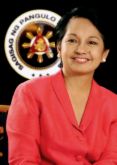 Philippines
August 29, 2008 8:12am CST
Are you happy that this person, your president now, has won the elections? Or do you wish that you had someone else?I ask this because I often see presidents being lampooned on some newspapers or blogs and realized that a lot of people are dissatisfied with their presidents!

How did this happen? I am a person who does not care who is in authority as long as they don't bother with me personally. I often see the good that the president, our president, is trying to do to help out our country's economy as she's an economist herself.

My answer here is that I am satisfied with President Gloria and hope that she will continue on improving our country. What is your view on this? Do you like your OWN country's president? I'm talking in general terms here.
4 responses

• Philippines
30 Aug 08
NO. for she and her family and the poeple who are sipsip are getting good benifits for her being the president. the poor ones becme more poor, and the middle class people became poor. even the staple food of the Filipinos which is rice shoot up that most of the filipino people can no longer afford it. is she worried? no! all she is worried about is what she will get and what can she have.

• Philippines
30 Aug 08
I don't think she made the rice prices go up as the world market of rice is really going crazy these days.

but I am not arguing with you. I am NOT pro-Gloria.


• Philippines
31 Aug 08
on my views i think she was the one who decides about the price of rice to cover up the ZTE scam. my wife is from bulacan and she has a lot of friends from nueva ecija claming that there are no rice shortage, the govermant said the the prices of rice shoot up because of shortage. well i think there is nothing we can do but to deal with it and mag-tiis.


• Sweden
29 Aug 08
Hhmmm about president in my country,When i was living in Philippines,I heard alot of romour about our president that.Other people she dont help and other people she help.For i dont mind it cause i really dont know what she been doing and if she do something then i know it is good for our country.But then now i am living here in Sweden there is no president here only CITY COUNCIL and the country here is very nice and also the system like for exampl almost free education from grade 1 untill you become professional :=) that the things i like here,Not same in the Phil if you dont have money you cannot go for school.

• Philippines
29 Aug 08
President PGMA is a working president. I agree with you that she is really helping the country's economy. Others kept on blaming her for everything that's happening in the country. Instead of helping her, they oppose everything. It's good that she just ignores them.