Your favourite messenger?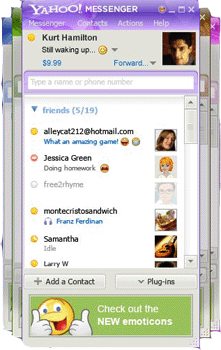 India
August 29, 2008 9:22am CST
As all of you'll know there are many messenger's available for chatting with you friends, collegues and family. Some common mesengers are Yahoo, MSN, AIM, Gtalk, Rediff bol and so on... So which is your favorite messenger? I use basically 3 messengers viz Yahoo, MSN and Gtalk. However i like Yahoo messenger the best out of all. There are few reasons though. In yahoo messenger you can appear permanently offline to a particular group of people. In MSN that feature is not available i guess. also Gtalk is not that advanced and has a small window. Also there are no proper smileys in Gtalk.
7 responses


• United States
21 Sep 08
Now that I think about it, I use a lot of messengers. ; ) My favorite is AIM, MSN is second, and the rest are all tied at third. : )

• India
31 Aug 08
MSN is my favorite messenger ... yahoo's cool too .. but one cant add any smiley's to it :( .. otherwise its good .. msn is more customizable hence i like it

• Philippines
31 Aug 08
I've using been using Yahoo! Messenger for 5 years now. Whoa! But I'm not so into joining chatrooms unlike before. Because all of the chatrooms are full of clans, bots, rude people...


• India
29 Aug 08
Hi friend,I like to chat in yahoo messenger,bcoz its advanced than othr messengers.It has many interesting features.I tried many but yahoo is best and comfortable.I prefer yahoo messenger.I love to chat in that.very interesting.Thanks for sharing.Happy mylotting.