Golden Boy and PacMan Compared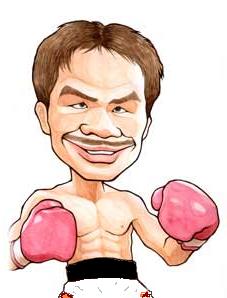 Philippines
August 30, 2008 1:18am CST
It's been almost a day when I read from a local newspaper that the Oscar dela Hoya-Manny Pacquiao bout is now a done deal. As exciting as it sounds, I unexpected thought that these two great warriors of boxing actually have similarities!Both boxers are Champions. No doubt. Both became champion in more than one weight class in boxing. Both boxers have an Album. Dela Hoya have a rap album while Pacquiao has his own novelty songs album. I guess both received high appreciation for the songs they sang. Both boxers are boxing promoters. Dela Hoya's Golden Boy Promotions and Pacquiao's Pacman Promotions. Both boxers are equipped to win over the other. Both are strong punchers and both can knock out opponents. For you guys, boxing fanatics or not, what do you think do these both boxers have in common to make their upcoming fight one of the best fights the world will ever see?
2 responses

• Philippines
30 Aug 08
Hi there Fedge! Those are really interesting facts, similarities of both boxers. I don't know much about them but with the regular star-filled audience, fans, and friends that they have, the venue is sure to be jam-packed.

• Philippines
1 Sep 08
yes the hype of the great fight is there both are superstars of boxing world and both have a cult following to their fame. But come to think of it the real essence of the sporting event which is compete for the glory of title is missing. Pacquiao and De la Hoya will fight only because of the MONEY and nothing else. There is no title and glory at stake there, they will only be doing it for the sake of 70/30 or 60/40 share and to please their betting camp side nothing else. Both fighters have nothing else to prove, pacquiao have 4 titles in his hand while De la Hoya have six, so what else to do? the real excitement of sporting event is gone if you would think they will only be doing it for money--at least in my opinion. I would watch them just maybe because of curiosity but you won't be seeing me hoping for a Pacquiao win.

• Philippines
21 Sep 08
Hall of Famers Manny Pacquiao and Oscar Dela Hoya's fight this December 6 will surely be a classic. Classic in a sense that we won't be seeing anything like this fight in the coming years. Both are fantastic in the ring though Oscar has told the press that he's target is to knock Pacquiao out, Pacquiao is known to have a very solid heart an d just won't give up easily against his opponent.