just got married two days ago and it doesn't seem to seep in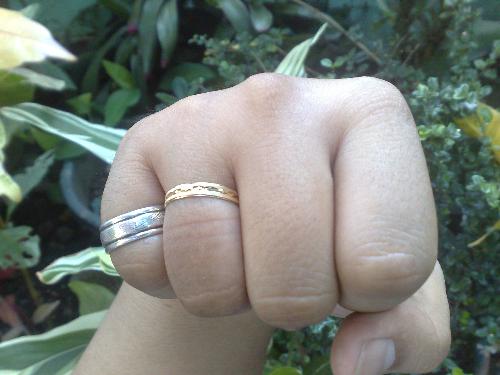 Philippines
August 31, 2008 8:59pm CST
two days ago, we got married. it really is strange that both of us (my wife and i) didn't even feel nervous, nor afraid. during the course of the wedding rites, we were upfront, but we're actually just talking with each other.

please don't get me wrong.. both of us are very serious about this wedding!

its just strange that right now, both of us feel like nothing actually happened.. anybody else felt this way when you got married?
4 responses

• United States
1 Sep 08
hi repzkoopz...i'm sure it is a big adjustment. i knew a lady who told me someone kept calling her mrs.___ and she didn't respond to them for a long time. they kept calling her by her married name and she wasn't use to it and didn't recognize it. finally she realized it was HER that was mrs.___and she responded. it great that you weren't nervous. that is truly helpful during such an important event. congratulations.

• Philippines
1 Sep 08
thanx! c",) hahaha.. that just gives me an idea.. hehehe.. i'll observe my wife and see if she actually responds when somebody addresses her with my last name. hehehe..

• United States
1 Sep 08
that'll be funny to watch for sure. :D

• Philippines
1 Sep 08
hahaha.. wish i could catch a short clip about her not responding to her name. hahaha..

• Philippines
13 Sep 08
hahaha! guess whos back?! finally remembered my mylot password. hehehe! i'm not yet married but i sure know about how you feel. you two have been together for more than five years. thats enough reason for you guys not to feel anything too special about your wedding. its just like you signed the marriage contract in the church, ate at the reception, and went home. hahaha!

• Philippines
14 Sep 08
wtf!! hahaha.. i didn't think you're still coming back here.. hahaha..

. hmmmm.. well.. sure looks like it. its been 2 weeks since we got married and we pretty much haven't felt anything different. let alone being excited about it. hehe.. but its just great to know that the rings we're wearing bears such a beautiful reason.


• United States
1 Sep 08
o[i]h!! congratulations to the newly wed.. Well, maybe you are already close with your wife before you got married or I mean you know each other very well and you need not to worry or anything about how you get along, or how you react with each other. That is good... Other people who have just married are not comfortable with each other. Yours, is very commendable... congrats!!!


[/i]

• Philippines
1 Sep 08
heyhey.. thanx for that.. yeah, thats probably the reason for it. actually, we've been together for 5 years, and our daughter just turned 2. we scheduled our wedding to coincide with our daughter's birthday. hehehe.. c",)

• United States
2 Sep 08
I've been married 3 months and I still don't feel anything. I think it's a good thing.

• Philippines
4 Sep 08
hmmm.. 3 months huh.. congrats! now this just makes me curious.. nothing offensive.. why do you think its a good thing? (i'm just curious coz i feel the same way)

• United States
4 Sep 08
Because marriage shouldn't change anything.