Have you read any or all of the Twilight books?

United States
8 responses

• Philippines
20 Jul 09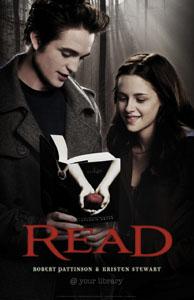 Ive read all the 4 books as well as Midnight Sun. My least favorite is Breaking DAwn..i dont care for it at all, but i love the 3 books.

• Malaysia
9 Jul 09
Absolutely Edward....if you read book 4 you will know why she made the right choice. As she said, she knows that she loves both, but she also knows who she cannot live without.

• United States
30 May 09
I've read all the books at least twice now. I guess my favorite character would be Edward. The ideal man really in every way. Intelligent, smart, sexy, handsome, he's a gentleman, compassionate, strong... And I think that Edward & Bella belong together because they've got the love and soul connection stronger than Jacobs. I know have connection and maybe that is one reason I think Bella belongs with Edward. Besides...she can't live with out him.

• United States
8 Jul 09
I've read all four. Bella should definately be with Edward, hands down. A relationship with Jacob would just be full of temper tantrums.

• United States
25 Feb 09
There is going to be no 5th book BTW. If the alleged 5th book gets printed, it'll be Twilight shown from Edward's perspective. Same book, just different wording. I personally am a Team Edward fan all the way. Edward and Bella were destined to be together. I've read the first 3 books and am about done with the 4th book and can't wait to see how it ends!

• United States
19 Oct 09
yea i have all and have read all of them with in 1 week....and i didn't care for the ending to much but i still think she should have been with Jacob but then i thought well he went all stalker on her and got with her daughter so Edward is definitely more for her.

• United States
5 Dec 08
I think Edward! He is so sweet and amazing! I can't wait to read the 5th book!