Memorial Exhibit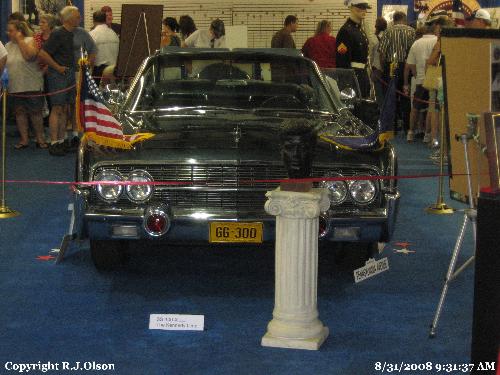 United States
September 1, 2008 2:26pm CST
My wife and I went to the Minnesota State Fair on Sunday. This year they had a traveling JFK memorial Exhibit. It was mostly personal items that he had or used etc. It was loaded with a lot of things from his days in the Presidential Position. His chair, pens he signed bills with, personal notes he doodled while on his way to dallas that fateful day. This is a shot of the replica of the Limo he was in when he was assinated at peavy Plaza. This is the same limo used in the movies, "Jackie", "Ruby" and one I think was called "Kennedy" Not sure of the last one though. This thing brought a tear to my eyes. They had papers with the headlines from his assination and many other things. What did you think of John Fitzgerald kennedy as the President? have you seen any tours along this line? HAPPY POSTINGS FROM GRANDPA BOB!!~
10 responses

•
3 Sep 08
I have seen documentaries and movies about JFK and of course read books but most of them deal either with his assassination or his love life! I don't really know much of him as a president other than I think he could have done great things for your country if he had not been cut down in his prime! hugs xxx

• United States
1 Sep 08
They were letting us out of school early to go see JFK when he came to Austin - after Dallas - obviously it didn't happen. I've never seen the memorial, but I've been to the LBJ library that includes a picture of LBJ's swearing in when his plane landed.

• United States
1 Sep 08
He was a Roam Catholic and I was in Catholic School that day. I recall they rolled in TVs for all the students to see this event. I was only 9 years olod but that day sticks in my mind big time. HAPPY POSTINGS FROM GRANDPA BOB!!~

• United States
1 Sep 08
The SciFi channel on satellite shows that still. I love Dr Who. HAPPY POSTINGS FROM GRANDPA BOB!!~

• United States
2 Sep 08
They also run some reruns I think. Maybe it is another channel. But I do know I still see the older episodes. Kewl deal meeting the actors etc. I'll have to read your stuff tonight. HAPPY POSTINGS FROM GRANDPA BOB!!~


• United States
1 Sep 08
I bet that was an amazing exhibit to see. I have been past Dealy Plaza many many times and have been to a museum there before. When we went to the museum the lines were so long and we were all give out that we didn't wait to purchase tickets. We did see many things in the "lobby" part though. I was no into politics back then since I was young like you but I do remember the day it was announced over the speakers in school and this was in elementary school and it was amazing how we all were so quiet and stunned even at that age. I also remember being at a friends house when Ruby shot and killed Oswald. But the picture I will never get out of my head is the one of Jackie in her blood stained jacket holding the roses or the picture of her trying to grab the "parts" off of the trunk. I do think that was a very very sad day for us.

• United States
1 Sep 08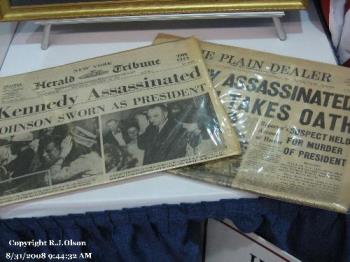 We got to the Fair bright and early and got to this exhibit as it opened so the line was really short. Maybe 25 people standing outside to get in. Love getting there early each year. Heres a shot of 2 newspaper headlines. One from New York Herald & Tribune and the other from Cleveland Ohio. HAPPY POSTINGS FROM GRANDPA BOB!!~

• United States
1 Sep 08
Wouldn't you love to have papers like that? I know I would. When we went to Dallas that day and went to Dealy Plaza that is now where we were headed is why that was not our first stop of the day. Maybe another time I am up there visiting with her we can go back. Thank you for posting a picture of the newspapers.

• United States
2 Sep 08
Ive some 21 year old papers from when Minnesota Twins won their first World Series in Baseball. HAPPY POSTINGS FROM GRANDPA BOB!!~

• Garden Grove, California
1 Sep 08
hi Grandpa Bob I havent seen any tours along that line but would love to. President Kennedy was to me a great president'and I felt so badly when he was assinated. I cried and I was then 'a grown woman. I was having my hair cut and styled, and the hairdresser kept stopping to watch the assination on the tv then cry and wipe her eyes, then cut some more. needless to say I had one of the oddest hair cuts and styling I have ever seen People asked me what I called my hairdo and I said its the assination hairdo. seems I am always getting something done to me when we have a national catastrophe like 9/11 I was at my podiatrist having my thick toenails cut. the doctor was watching the Tv at the s ame time and managed to nick the top of one of my toes. The sights on the TV were painful enough with out cutting my toe to boot. lol.

• United States
1 Sep 08
Yes he was a great Prsident and a Great Roman Catholic. This exhibit was all from a man from Michigan that met him personally during his election run leading to him becoming President. So this makes it very special for me as well as for the owner. It was a great thing to see even though it teared me up somewhat. HAPPY POSTINGS FROM GRANDPA BOB!!~

•
1 Sep 08
Hi GRANDPA BOB, Thanks for the picture of JFK and the limo, i don't blame you for shedding a little tears, i have still got the neswpaper when his younger brother Bobby was assinated. I hope you had a nice time anyway. Tamara

• United States
1 Sep 08
Well I would have to say that I wasn't even thought of yet when he was president, but I've read about him in my history classes and on tv. I imagine he was a good president. I've never been on any tours like that either, I haven't done a whole lot, but I plan to someday. Have a good day

• United States
1 Sep 08
No cant say I have seen anything quite so special.I hope you and your wife had a great time.I can barely remember him as a president but I have learned along the way that he was a amazing president and wish he would have lived along enough to show that.You have a great evening.

• United States
7 Sep 08
I've never seen a fair like that before. I bet you guys had a blast. It would be cool to see things like that. I can't say how I liked JFK as president because that was before I was born, if I'm not mistaken. I've heard he was a great president from other people though.


•
5 Sep 08
I guess that I do not really know a lot about JFK to be honest, I mean I know that we must have covered it at school and I know I have watched some documentaries about him but I do not know a lot really. I know that the last thing I watched had some pretty graphic stuff on and pictures of him and that was not nice. I have never been to any tours or anything. I have just lately taken a great interest in history, and have started researching and learning about The Tudors, I am working my way through things so I think that maybe this is something else that I would like to teach myself about eventually.