Do You Blog?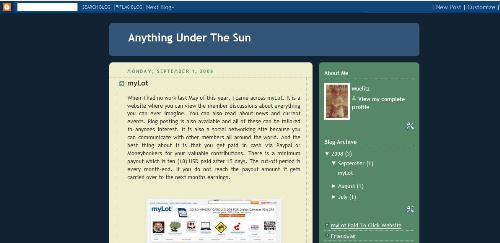 Canada
September 1, 2008 3:08pm CST
I recently created a blog in blogger.com.

I am hoping to link it to mylot after four months when it will eligible. myLot FAQ states that blog site you can use must be 4 months old so I have to wait that long. It can be an additional income which could help me meet the required payout every month. What do you think?

Below is the link to my blog in case anyone is interested http://muelitz.blogspot.com/

5 responses

• Philippines
2 Sep 08
Yup I do, I just started at the end of June. I visited your blog and yup, it looks fairly new (*wink) But I like the clean look of it. You may want to visit my site as well, it's http://maplekisses.tabulas.com. Actually, my blog, though it's still a baby, have helped me earned $25 already. I enrolled to my own program
@
blogtoprofit.com. Yeah, I work for that company and I evaluate blog posts everyday and pay bloggers for posting contents related to our clients. You can visit my post about it
@
http://maplekisses.tabulas.com/2008/07/02/blog-to-profit/ so you may have the details. You may want to earn through our program as well... Good luck and happy blogging!


• United States
1 Sep 08
i have a blog and it came with sites like myspace or mocospace. i realy like blogging i blog bough things that are important to me. blogger.com well alot ppl who buy ur blogs dnt like wat i blog bout . so i just blogbotu stuff that i like


• United States
1 Sep 08
I do, and mostly it's rants about things that either concern me or don't, so some of it is of my daily life. I am not really sure what all I do have in there at the moment. Reading the blog requirements, I do not think that it would fit well here. If I knew that I was allowed to post it here, I would after the four months were up.