Hurricanes

United States
September 1, 2008 4:45pm CST
This time of year is when I hate living in Florida... These storms are think right now... Hannah and Ike... What does everyone think?...Will they bother us to much?... Lets hope they they leave Louisianna alone at least!....
6 responses

• United States
1 Sep 08
I live in North FL and just went through Fay. I haven't been through any Hurricanes yet, just Tropical Storms. I've been watching the weather closely so I don't get surprised with another storm. I think that FL will do OK with another storm tho. We did good preparing for Fay. Even so, I hope everyone stays safe and heads to any warning there may be in their area. It just started raining hard as I am typing this, came out of no where.

• United States
1 Sep 08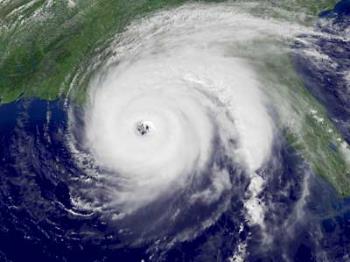 oh i hate living in florida around this time too.. actually, 95% of the time i hate living here. lol The weather is always crazy! I hope they do not bother us too much. I really hate having to go through hurricanes and everything that comes along with them as i'm sure everyone does.. And this heat! omg, the last thing we need is a hurricane to blow on by and knock the power out and leaving us all with no A.C

I hope people in Louisiana are staying safe and don't get hit too hard.

• United States
1 Sep 08
I am watching the Weather Channel and they said a tropical depression is forming on the backside of Africa if it develops it will be named Josephine. They are forming one after the other. From the looks of it we will be getting some activity from Hannah soon. I hate to be at work when these storms are coming this way....Those people do not like for us to go home. Once we had to all get together and just leave, because they didn't want us to go. I work about 20 miles from home. I just have to take a point because I am leaving.

• United States
1 Sep 08
Florida sucks this time of year. I live in Pensacola, and we seem to get a little piece of every storm that makes landfall anywhere along the Gulf Coast. We have not gotten a lot of bad weather from Gustav, but we are waiting to see what the rest of them are going to do. I don't think we have to worry about Hannah, but the other two could still come our way. We actually got more rough weather from TS Faye than we have gotten from Gustav. I think Ike is the one we are going to have to worry about here. What part of FL are you in?

• United States
1 Sep 08
I live in SW Florida. I boarded up for faye and will stay that way until November! This time of year stinks

but it seems like we got a break for a few years thankfully. All I can say is stock up your pantry, only but what you need weekly for the freezer and pray these next five storms will all be tropical and not hurricanes! Blessings to all who are weathering Gustav right now!

• United States
1 Sep 08
I know how you feel. I live in South Carolina and I'm watching Hanna and Ike like a hawk. My family had to leave New Orleans for Gustav and I'm watching water pour over the canal right now.