How old were you when you first got your ears pierced?

United States
September 5, 2008 12:35am CST
How old were you when you first got your ears pierced i was 16 years old and i got them pierced at the mall in my home town, how about you guys how old were you and how was the whole experience for you, and when do you think is the right age to get them pierced?

5 responses

• India
24 Dec 08
I was a baby when my mom got my ears pierced by a local lady. I was probably just a few months old that time. Its good in a way as I am too scared of pain and wouldnot have been able to get it done as a grown up. Even now when I see girls with lots of piercing in their ears, nose etc, I too feel like getting a few more done. But i just don't have the courage to do that.

• United States
7 Sep 08
Hi Apples99, I got to have mine pierced the first time when I was 14. I had it done in a shop in the mall by my house. I was scared but I wanted them pierced so my mom and me went in and had it done. It only stung a little bit when the girl shoot the earrings in and for the first week they were kind of irratating but I got used to it pretty fast. I got a second piercing since so I can wear a stud and something dangley at the same time. Hugs, Tianna

•
5 Sep 08
Hi ya apples99 I always nagged my parents when I was about 8 onwards about getting my ears pierced but my dad always said that I could when I was 16 and old enough to look after them myself. Well my dad had an affair and left the home so my mum took me out to get my ears pierced I think I was about 11!

•
5 Sep 08
I was thirteen when I got my ears pierced. I had to hassle for years to get them done. I think anytime after the age of 11 is good to have your ears pierced as you are old enough to clean your ears, keep them clean and make sure you don't get any bugs in them. None of my girls have there ears pierced, one is almost 20 (couldn't get her to have them done) and the other one almost nine. I think earrings on babies look awful

• India
5 Sep 08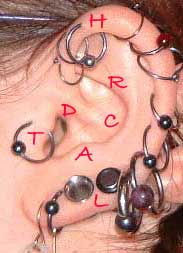 Well, I had my ear piercing done when I was about 11years old at my aunt's place.I was too young but so exited to this new experience of piercing my ears.I don't think there is right of age,anybody who is old enough to say that they want to pierce their ears can go for it.