"Have you try to Visit an Aquarium in your Place that you Live-In"

Kuwait
September 5, 2008 3:40am CST
Have you try to visit an Aquarium in the place that you are living in and if you did,How much does it cost or amount that you have to pay just to see those lovely creatures of the Sea becuse here in Kuwait we used to pay 3kd for the Adult and for a child they took a half of the amount...... and it cost 10 dollar.What about you Guys my Co-Mylottian Have you try to visit in the Aquarium, How much does it Cost in Dollar, have you been enjoying your time with the Sea creature....////??????
5 responses

• Canada
7 Sep 08
we don't have one here in the city we have to go elsewhere for the aquarium, so it becomes a major trip. I have never had the money to travel much but I did one in another province.

• Malaysia
7 Sep 08
Hello iyah10, I visited an Aquaria in Langkawi Island few years ago. I can't remember the price but I think it is a bit expensive nowadays compares to my last visit. We have another Aquaria in the city and it costs $9 for adults and $3 for kids. Unfortunately, I haven't been there yet but I heard that it is amazing place to visit where you can see all kind of fish and sea creatures.

• India
5 Sep 08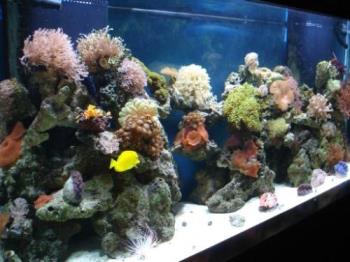 Yes I have had visited just recently with my friends,but they don't charged us,it was for free.There were lots of people from other states who came to visit too.I love it and I saw different size and shape of sea creatures,I mean fish.It was a wonderful experience.I have never seen some of the sea creatures in my life and I find it very interesting,my sister's 2 year old just couldn't take his eyes off.It was amazing!

• United Kingdom
5 Sep 08
My local town has a small aquarium and I took my oldest son and my two nephews there in 2005 when we first moved to a new area. It cost about $12 for adults and $5 for children. We saw tropical fish, sea horses, crabs and turtles. I prefer to go snorkeling in the ocean in tropical locations. I have seen black tipped sharks, nurse sharks, a manta ray, sting rays, a star fish, dolphins and a turtle. Seeing sea creatures in the world is exciting and special. I have seen penguins whilst being on land and seals on a beach. Wow!

• Kuwait
5 Sep 08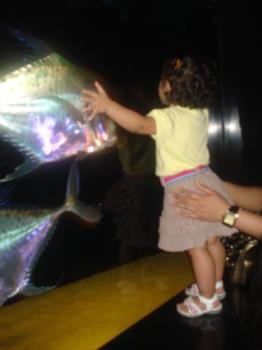 Yup, we visit 2 weeks ago, and i will add the picture of my daughter how she hug the aquarium, i cannot believe in her reaction to see all the big fish & sharq. IT COST US 2.500 Kuwaiti Dinar only.