Who is the cutest pokemon you have ever seen?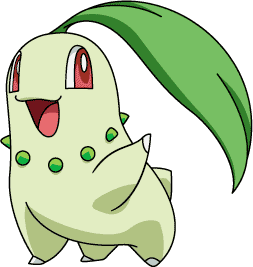 India
September 6, 2008 5:58pm CST
I think the cutest pokemon is Chikorita.After evolution it doesn't look good though.
7 responses

• Philippines
27 Sep 08
I think cute sh0uld mean small ang cuddly but 4 me sn0rlax is the cutest p0kem0n th0ugh its big, but it acts very cute just sleeping and eating a l0t. I'm a guy but i like t0 have a very large sn0rlax d0ll in my r0om.

•
27 Sep 08
I think the cutest pokemon is Togepi, I love the way it makes noises, it's very cute and adorable. But it's evolution Togetic is just plain weird. The game designers seemed to squash the Togepi and add wings to it to make Togetic.

• India
28 Sep 08
I agree with you.The noise it makes is really good.

•
28 Sep 08
Chikorita isn't bad either though in terms of cuteness. Oh, and talking about cuteness, in the Pokemon Ruby/Sapphire series, the contests things, I find it rather annoying that even the ugly pokemons can win the contest, that's a bit odd I think. All you have to do is overfeed it with pokeblocks and you've basically guaranteed yourself a ribbon.


• Philippines
25 Nov 08
The cutest for me would have to be the azurill. Even after it evolves into a marill and an azumarill, I think it's still cute! I think sentrets and furrets are cute too!

• Philippines
7 Sep 08
There are many lots of pokemon that is cute especially the small and unevolve form, Many of them are very fierce looking after they evolve. I've playing pokemon since high school and my favorite pokemon is pidgey, because it is a balanced type even though it is a flying type. I've been looking for another pokemon game in nintendo ds. My favorite cute pokemon is furret.

• Indonesia
7 Sep 08
I also have played pokemon since my elementary days. Almost all of the small pokemon is cute but I especially like pachirisu from pokemon diamond and pearl in nintendo DS,because even though it is so small,it is extremely strong and fast.


• Philippines
15 Nov 08
I must agree, Chikorita is one of the cutest pokemon, but when it does evolve, it's not that cute... For me, the cutest pokemon is Glaceon. It looks very cute and adorable! I just love how it looks like!

• United States
6 Sep 08
As a child and a teenager, Dragonball Z and pokemon where my only favorite Animes. The cutest Pokemon in my opinion is charmander. After evolution, it looks stronger and stronger.