Pool Table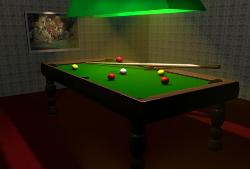 United States
November 5, 2006 6:36pm CST
I want one. I don't know the first thing about buying one though, lol. And not that I'd be able to buy one anytime soon, I still can dream, no? It's a great pasttime though, what do you guys like to do for fun?
1 response

• Australia
6 Nov 06
The first thing to do is to work out what type you want. Do you want 8-ball or 9-ball to be the main game. Would you prefer to have lots of room to play around it, or just to practice your break? You need to have a good solid floor to take the weight of it, and you would probably want rails instead of pockets.

• United States
6 Nov 06
o geeze....i never thought those were different tables. 8-ball vs 9-ball; i thought they were the same tables. what is the difference on them?? And why rails (I'm assuming that means the balls go to one location like in the bars?)? Most people I know that have them in their homes have pockets. I never even thought of the other way.