Bleach Movie 2: Diamond Dust Rebellion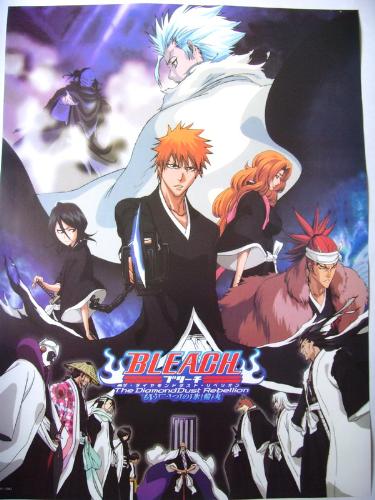 Singapore
September 7, 2008 2:41pm CST
After a long wait, it's finally out on the Internet! It was released on DVD in Japan on 3rd Sep and the sub versions are finally available for watching on the internet. Yippie!! I just managed to watch it and I must say I enjoy it tremendously. It's full of action and it features one of my favorite character Hitsugaya Toshiro (Taichou). I like the story line and the twist (2 hyourinmaru?!). If you are a Toshiro fan or Bleach fan, it's a must watch!

If you have watched it, do share what you think about it?
10 responses

• Singapore
16 Sep 08
Wow, you are one anime fan eh? I too used to love watching Anime. Manga included. But eversince I got hitched and settled down, I never seem to have enough time to catch up with all my cartoons. The last series I ever watched and completed is the Evangelion series. Still trying to find time to catch the movie though. Good that you are able to pursue your hobby.

• Singapore
17 Sep 08
They used to be my life too. That is until I met my wife those many years ago. Priorities changes at each stage of life. Well, I still enjoy the occasional anime every now and then. But it is no longer a do or die thingy with me. I am still searching for the series Ninku. Any idea where to get it? Anime Channel on cable is showing them at un-earthly hours. I can never stay up that late to watch them.

• Singapore
17 Sep 08
wow.. I think it was shown more than 10 years ago. You mean they are replaying it? I did watch a few episodes before last time. I tried to search in Crunchyroll but could only find the 1st 9 episodes (subbed version). The person who uploaded it in Crunchyroll promised to upload the rest of the episodes later on. (Apparently, he met with an accident) As for veoh, I could only find Raw versions.

pai seh.. couldn't help. If you understand Japanese, then Veoh is good.

• Philippines
8 Sep 08
horay!.. haha..

..I know about this movie along time ago but i wasn't able to watch it. A friend of mine only told me since she is also a fan (yes, very addicted) of Toshiro (that's why we are friend.. lol..).. i also waited for the time that it will be available in the internet. I am really eager to watch this 2nd Movie of Bleach because I am also an avid fan of Bleach.. I love Hitsugaya and Byakuya.. hhahaha.. .. I recently found out about this being uploaded in dattebayo.com as i download my weekly naruto torrents.. the movie is also in torrents.. lol.. and i had downloaded it as well but its not completed yet.. lucky for you poohgal, to be able to watch it.. I think my downloaded will be finished tomorrow (since i also downloaded some movies from Studio Ghiblis.. they are so nice too..).. yepey.. i'm gonna watch it tomorrow..



• Philippines
9 Sep 08
ah.. you can download from bleachexile.com?.. i had visited that site before but i didn't noticed any torrents. well, thanks for the info

!!

• Malaysia
7 Nov 08
I'm a big fan of Toshiro. The story is still okay, and I wouldn't say it's good since there are other movies with better stories out there. The thing which I really don't like about it is how easy it ended - the final boss. ** SPOILER ** It seems like the fight was impossible, even with the strong good guys especially one as powerful as Toshiro (the genius which only appears once in a century). And all of a sudden, Ichigo who was beaten to crap just moments ago, suddenly put on his Vizard mask and whacked the bad guy in few strokes of his sword. =_= That's a big turn-off to be honest and I wasn't the only 1 feeling that way.

• Singapore
7 Nov 08
Agree. I was surprised to see Ichigo putting on Vaizard mask too. Only the other Vaizards, Orihime, Nel and Espada have seen the mask at this point in time. I also was surprised to see Ikakku going into 'Bankai' mode in front of Toushiro and Matsumoto. It just doesn't make sense. Ikakku doesn't go into Bankai in front of others. Other than these 2 parts, the rest are good.


• Brazil
7 Nov 08
im a Hitsugaya FAN, this DvD is amazing, really VERY GOOD, hitsugaya rules and at this movie we are meeting how hitsugaya got his zampakutou, its great :D Hey guys, if u like bleach u cant miss this DvD. Cya guys, Peace 4 all.

• Philippines
16 Sep 08
It seems interesting to watched this, and is that true, toushiro is there and he got a bigger part?! wow, I must watch this film. He is my favorite taichou in the soul society, and based in the story summary that I read in the wikipedia, it got a very interesting plot. I must start now to look on where I can stream it online or can download it. By the way, thanks for sharing this us.


• Philippines
16 Sep 08
Awesome.. its Grreat.. i cant say anything its all about the story. its has nice team work.. toushiro is Emotional oops.. komenasai,,its Captain hitsuga i mean.. hihihih

• Philippines
15 Sep 08
I've watched this movie and I can say is its alright. I liked this one better than the first one(memories of nobody). The movie shows a lot of great of action scenes. Bleach fans will surely like this film. I for myself thought that the film was pretty good in its storyline, because in this film they concentrated on toshiro and his past which I find very amusing. So to all Bleach fans, have fun watching! :)

• Singapore
15 Sep 08
Yuppie! I like this better than the first one too. The first one was too boring for me and I don't exactly like the character Senna.

I like this plot much better than the story they are currently featuring in the anime (Amagai and Princess Lurichiyo arc). They should have made this into an arc instead.

I do find the movie a little rush and many things are unexplained (ie. why is there 2 hyourinmaru?) Thanks for sharing.


• Philippines
10 Sep 08
this is great. been waiting for this day to come.

the long wait is finally over

• United States
7 Sep 08
Oh wow! I think I saw the preview but I didn't get to watch the movie yet. What website did you see it? Thanks for sharing.

• Brazil
10 Nov 08
come on, respond at my bleach discussion plz =) Be Happy !