Has RIDICULE of OBAMA gone too far?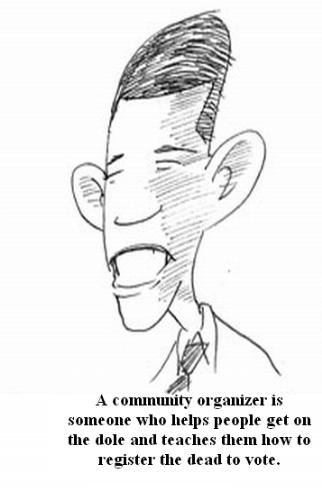 United States
September 8, 2008 7:13am CST
Yes, it is true. Some people do take politics too far. Click the photo to see a possible instance of RIDICULE gone TOO FAR! I say this cartoon does not go too far in ridiculing Obama. Community organizing as job in and of itself is absurd. Leave this to local elected officals, pastors, and friends acting together in a neighborhood. 'Community Organizer' is to me, more descriptive of an agent for political corruption. What do you say?
4 responses

• Australia
8 Sep 08
Sure it's dark humour (Pardon the pun!) but I don't think it pushes the boundaries at all. I have certainly seen far worse! Community management definitely is a role that should be delegated WAY down the chain rather than be a direct responsibility.

• United States
8 Sep 08
I agree with you. Now, imagine this. Obama actually thinks his experience as a Community Organizer is one his main qualifications to be President. I find this to be mind boggling to the point of wondering if Obama is delusional. He certainly is not as smart as people are saying.

• Australia
8 Sep 08
It is pretty naive to think of the entire United States as one big community in this regard. Sure, you could arguably state that it is just that; but the combined complexities are dramatically different! Give it time for the pregnancy, affair rumours and supposed "sambo" comments by Palin angles to calm down and I am sure there will be similar experience jabs coming her way as well that are far more vitriolic than we have seen thus far. And so continues the circus! Anyways, Obama will slip through this latest angle as always and on we go..... He is distantly related to Brad Pitt too so this will help tremendously. Didn't you see my post regarding his distant links to Hollywood royalty?

God help us all! lol.

• United States
8 Sep 08
"Distant links to Hollywood royalty?" That's sounds good. I'll hunt it up.

• United States
8 Sep 08
Community Organizer is just a fancy PC name for a "go-fer"; just like Sanitation Engineer is the fancy PC name for a garbage collector. They give these young people fancy titles for "do-nothing" jobs so they can "feel good about themselves". Later, these poor misguided individuals try to use these titles to make it look like they did something "important" and the HR people just smile and toss it after they leave. Unless, of course, they are looking for another "comunity organizer".

• United States
9 Sep 08
I believe Community Organizer, Chicago style, is a rabble rouser corrupt politician in trainning.

• United States
9 Sep 08
Who said a "go-fer" has to go get coffee and your laundry"? In his case - it was "go" get this petition signed, "go" register xxxx people today, "go" hand out pamphlets about how good we are and how bad our opponents are. Still a "go-fer" with a fancy title!

• United States
8 Sep 08
"Community organizer," is such a vague description. The word could define a wide variety of activities and I'm not sure which ones actually apply to Obama. He could have put "4-H Club" (no offence to them) on his resume to run for president and it would have been far more descriptive than "community organizer." I think the point of the cartoon is a needed message, considering that Obama has labelled himself a "comminity organizer" and left the details of that position to the imaginations of the voters.

• United States
10 Sep 08
Actually, the cartoon is probably pretty darn accurate given 0bama's association with ACORN community organizing.

• United States
9 Sep 08
Obama is correct in saying comunity organizer is how those on the outside get started. Granted, if you are voting based on all that fantastic Washington experience McCain and Pal...oh wait Palin has no Washington experience. Gets kind of confusing.