peanut butter

Canada
November 5, 2006 9:23pm CST
does anyone like peanut butter and fluff sandwiches If you havent try it you should
11 responses


• United States
31 Jan 07
No, I have not had a peanut butter & fluff sandwich. After I have made the following candy recipe, I think I need to try one. I think it would be delicious. Here is a terrific candy recipe using peanut butter & fluff. YUM Krispie Peanut Butter Balls 1 cup Peanut Butter (not reduced fat) 1 7 oz jar Marshmallow fluff 1 1/2 cup Rice Krispies 1 1/2 cup Semi Sweet Chocolate Chips 4 tsp Shortening (Crisco) 1. Mix peanut butter & fluff in large bowl stir in Rice Krispies until well coated. 2. In small microwavable bowl add chips and shortening. Microwave uncovered for 1-2 minutes or until chips are melted, stir until smooth. ** Melt on stove top set on low so that chocolate mix will not harden if the next step takes too long. 3. Roll cereal mixture into 1" balls. Dip into chocolate. Place on wax paper and put into refrigerator until chocolate sets.


• Canada
14 Nov 06
I've eaten a lot of peanut butter sandwiches,I just haven't added the fluff.

• United States
6 Nov 06
I can't believe that someone actually likes peanut butter and fluff sandwiches like I use to. Wow, that brings back memories. God Bless

• China
6 Nov 06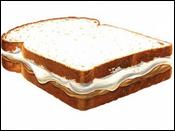 I love peanut butter very much, here in china, we could buy the brand "skippy", I think it comes from US, and it's my favourite peanut butter. I have no idea what fluff is? Is it some kind of butter? Never heard of it. .

• Australia
6 Nov 06
Can I ask what fluff sandwiches are I have never heard of this...I do like peanut butter.....


• Philippines
6 Nov 06
i surely love peanut butter..

• United States
6 Nov 06

This is a funny question. I just introduced my kid to "fluffer nutters" as we Pennsylvanians call them. She loved it and the fluff all over her face proved it lol.