My baby boy, isnt such a baby anymore!

United States
September 10, 2008 9:17pm CST
Sniff Sniff. Today I pick up my son from school and we head to a cousins house to babysit so she can go to work. While sitting on their couch, my son smiled really big, and all of a sudden i see a black hole in his mouth..lol or so i thought...it was a gap in his teeth...HE LOST HIS FIRST TOOTH! I knew both the top and bottom front two teeth were starting to get loose, but i thought we still had a lot of time before we lost one..at last another month or so, they just started to loosen. Anyway, i said Maverick..where is your tooth, as i thought maybe it just came out, he said.."it came out at school when i was eating my lunch" I said well where is it, he says "...lol, i threw it away" My jaw dropped...i said..um what about the tooth fairy..he says who? I said remember you put the tooth under the pillow and then she leaves you money, he says "mom, you never told me that" i said yes i did "he says mom, no you didnt or i wouldnt have threw it away"...lol, i swore i told him, but the more i think about it, the more i think he is right..lol. So i told him to make sure when the next one comes out he doesnt lose it or toss it, and i will make sure the tooth fairy leaves him a little something extra.. Do you remember when your child or children lost thier first tooth...please share the story
2 responses

• Canada
11 Sep 08
I do remember when my older children lost their first tooth , it was such a big event and marked that they were growing up so fast . Now I am waiting for my little one's and we get to start all over again . One of my girls is now 5 and we have already discussed the tooth fairy because I know it can happen anytime now although my other two were much older when they first lost a tooth but somehow she seems so much more mature them them and so I just assume her mouth will mature faster ( if that makes any sence ) . They grow up on us much to fast . One day they are babies and then they start school and then the tooth fairy comes to visit and then they no longer need us for everything . It really is hard Sniff Sniff !! I wish I could keep mine little forever . My youngest is only 3 but my oldest is almosst 19 and seeing the differences in there ages , I see every day how fast they grow up and then move away from home . Your idea of telling him the tooth fairy would leave a little something extra next time was clever . I can remember when mine lost one once , I forgot to put something under there pillow and the next morning when they came to tell me there was nothing there , I realized what I did . So I grabbed some change without them seeing and went up to help them search and said , you must have been moving all over your bed last night because it fell on the floor . We have to be quick when we make a mistake and forget to do something lol :)

• United States
11 Sep 08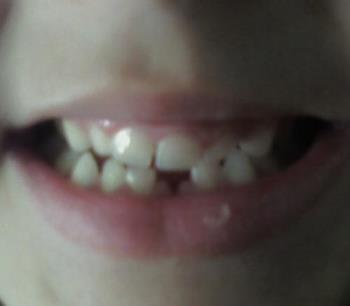 wow 3 and 19...you are a brave woman..lol thats a big gap. yes it all does happen to fast..i cried 2 wks ago on his first full day of kindergarten, and tonight after he went to bed i cried some more cuz of the tooth, im tellin ya..he has to stop growing or ill flood myself out of my home with the tears..lol. Oh by the way i forgot to post image when i started this so im doing it here.. sorry its so big

• United States
23 Apr 09
I do remember when both of my sons lost their first tooths. I never really did the whole tooth fairy thing with them, I would still reward them though with treats and other things when they would let me pull their loose tooths. My oldest son I remember was scared to have his tooth pulled out, he was afriad that if I pulled on hist tooth too much that they would all fall out. He asked me if that happened would I be able to glue them back in. I laughed a little inside but assured him that I knew what I was doing and that everything would be ok.