Teens and Driving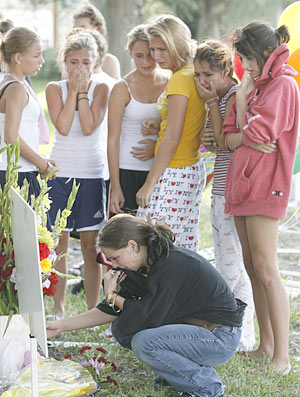 United States
September 11, 2008 12:19pm CST
I am a Mother of three beautiful children, one of them being a teen. My daughter has been asking me over and over when can she get her permit to drive. I on the other hand do not agree with the age that allow our young teens to operate a car. My daughter just turned fourteen in April and thinks she is mature enough to live on her own and I am sure most teens of that age are the same. What I am trying to say is, There are to many deaths involving teens and driving. At this very moment my daughter is gapping on the phone. I am not sure if I could trust her young immature mind to not do the same while driving? Text messaging and Myspace is most teens lives. Am I being to over protective, or am I simply being a Mother?
2 responses

• United States
11 Sep 08
No your not being over protective. Depending on where you live 14 is way too young to get a driving permit. I have a granddaughter almost 22 and she is on the cell phone and sometimes drives with her knees. Here where I live the kids have to take a drivers training course before getting a license and cannot drive after dark until they are 18 unless it is to a school function or a job. Unless there isn't any other way for her to get to school i sure wouldn't be letting her get a permit for some time yet.

• United States
11 Sep 08
Hi Amywrites, I think you are not alone who is worrying about teen age driving. My step daughter too really want to have a permit and she's very eager to drive. She took her exam last and unfortunately she failed. She is 16 and very aggressive to drive. What I observed was that she envy some of her classmates same age with her who are now driving. Her dad always tell her to wait until she will be 18 and that she could drive, find a job and have a car of her own. her dad said, then who would pay for your gas and insurance if you will drive?

find a job and you can have it. That's the answer she got. But she still insist to drive.
I think, there's no problem if they are just careful. they must be at a legal age to drive that's for sure.