Vacation Ideas, Fun places to go!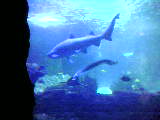 United States
September 11, 2008 12:56pm CST
If You are looking for something to do with the family and you live close to KY. This is a wonderful place to take the family they even have things outside of the aquarium that are fun. If you have ever been lets hear your story. Also if you want to go its in Newport KY its called the Newport Aquarium . I have attached a pictue of a shark just one of the many speices they have.
No responses