What is the most unique costume .....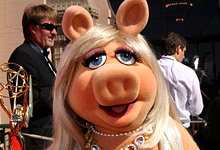 United States
September 11, 2008 9:32pm CST
That you have worn yourself or put on your children for Halloween?My son is 5 and I have always wnated to dress him as Kermit and me as Miss Piggy. I have a thing for collecting frogs and really love Kermit the frog so i thought it would be a cute idea. However i never have been able to create the miss piggy part very well, so i ahvetn done it. If I am going to do it, i think this might be my last chance if it all, because last yr he threw a fit til i let him be what HE wanted to be..lol and something tells me he might not be too keen on the Kermit costime..lol
1 response

• United States
12 Sep 08
The best costume i ever had was a snow white dress. A friend of mine had it hand made for some reason or another and when she out grew it it was given to me.