Just Got Paid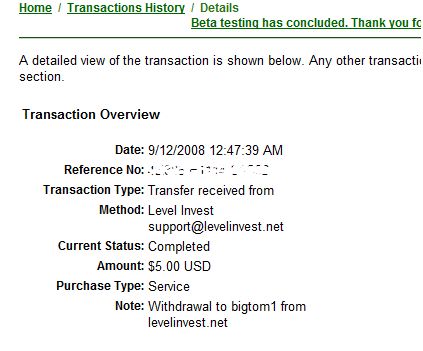 September 12, 2008 11:13am CST
Yesterday i posted about a blog exchange for those of you interested in investing sites but got no reply

. So i requested a payment from another investing site to prove to you that i'm not here for jokes and got it a few hours later when i was sleeping

. It's only $5 but that's a lot for doing nothing. There are several plans there at level invest. You can withdraw an amount whenever you want but if you leave it, you get an instant payment once the plan reaches maximum days. Attached is a proof of payment as usual and the site name is on the proof of payment as well. You can do your research first before you join

1 response

• Italy
12 Sep 08
Hi there tom! I missed your discussion yesterday but I am interested in this. If you think I won't put a jinx on it if I invest and then all would lose I'd like to know more about it please.

•
12 Sep 08
Hey, i have taken up investing as a challenge and started on 1st september. I had joined two sites only goldeninvest and levelinvest because they all pay when you want to and pay on time not more than 24 hours passes. These ones are not similar to cyclers and autosurfs. you invest a minimum of $1 and earn 10% of that everyday for 15 days. That means if you invested $5 you will have $0.5 each day coming to you and at the end of 15 days you will have $7.5. The best part is that you do not have to withdraw at the end of 15 days. you can withdraw at anytime you want. i usually withdraw when i make up for the investiment. i withdraw the remainder(profit) later on. i will have to put up more information on my blog tonight. Happy mylotting


• Italy
12 Sep 08
Sounds too good to be true (my middle name is Thomas

) Let me know when the info is on your blog please.