does anybody has got a tatto done ?

India
8 responses

• United States
14 Sep 08
This is true that you cannot donate blood but only for a year after. SO if u plan to get many, it will be one year from the last tattoo you had. I have 14 tattoos and have given blood 4 times throughout the time i have had them. They have never asked proof of when i got the tatts done, but i always keep a copy of the form from the tatt shop that you usually have to fill otu, and have taken that with me to the blood donation place. I have never known side effects of having a tattoo, but if you dont take care of it after you get it, until it heals, then you risk infection, jsut like you would if you had a cut or scrape and didnt care for it. Tattoos heal and scab just like a sore would, but then as the scab and the initial peeling happens, it should like smooth and beautiful. My list of tattoos are as follows, waterfall, shooting star, yellow rose, the word grandma, the word brat, a little girl with pigtails sticking out her tongue, a dreamcatcher, my sons name, a bumble bee with the words "sting me honey", a frog, a heart with the words "wild at heart" (photo attached), and a fallen angel tattoo that is a heart with devil horns and devil tail with angel wings and halo, and then a circle of stars with my neices and nephews initials in each star I still want to get butterflies down the calf of my leg, other than that i think i will be done. yes they are permanent and yes i know as we get older adn our skin wrinkles or whatever, it will affect the look, but i dotn care, each one means something diff to me and that is what is most important to me

• United States
14 Sep 08
I just noticed i didnt attach the photo I wanted to include in my original post.

• United States
14 Sep 08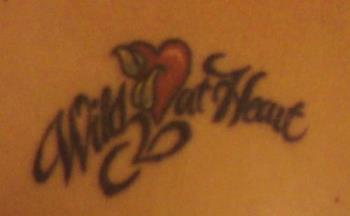 I just noticed i didnt attach the photo I wanted to include in my original post.


• United States
14 Sep 08
I have two tattoos. One is on my right shoulder and its a butterfly. I got that one on my 18th birthday. I have another on my right wrist and its a gemini symbol with a bleeding heart in the middle of it. I got that one about two and a half years ago. Of course both are permanent but the one of my wrist people think its not. I have heard that you can not donate blood after getting a tattoo but its only for a time.

• Delhi, India
14 Sep 08
Tattoo looks good to me, when it is drawn on someone else. I do not feel like getting a tattoo made on myself and I do not want to bear the pain.....for getting the tattoo done.........LOL! What about you?

• Philippines
14 Sep 08
I don't have a tattoo and I don't have plan on having one... It's painfull!!! it's forever even if you erased it..still there is a tattoo... Side effects? Having a tattoo from a non-hygienic shop, a person could have Hepa B virus and HIV/AIDS. Which are non curable... That's why whenever somebody voluntarily wanted to donate blood, they were given questionaire to be answered honestly then they where being interviewed by a doctor asking the questioned been answered on the questionaire... Even having peircing... Because when transfusing blood, it may passed on the virus to the person recieving the blood...

• Indonesia
14 Sep 08
I haven't any tattoos, i really afraid of needles.. I don't think someone who have tattoo can't donate his/her blood except he/she got some disease (like hiv, maybe) from unsterilized equipment while he/she getting the tattoo..

• Indonesia
14 Sep 08
I've got a tattoo in my neck along to my back :) LOL. It is permanent and it doesn't have any side effects. The tattoo artist always sterilized the equipment, even always using the new needle for each person. And why is exactly someone are not allowed to donate the blood after getting tattoo done? As long as the blood is healthy and doesn't contain any viruses or bacterial, that should be fine. :)

•
14 Sep 08
Nevr heard that one before,but I see no reason wh a tattoo shud make you unable to donate blood,but then again you never know,maybe its something to do with the penetration of the needles while youre being tattooed,im no fan of tattoos myself,they look pretty tacky to me.Not too bad on a an,but on a woman its there for life,they get older the tatto gets wrinklier,and it doesnt do them any favours at all.I reckon if a woman was going to have a tattoo done then the best place to have it is on her shoulder,a tiny one,then it cant be seen if she doesnt want it to be seen,ive seen some that are done on the legs and they just look silly,as when the summer sandals come out there are the tattoos on display for everyone to see.