Here is a photo of my tree to of life to hang my photos from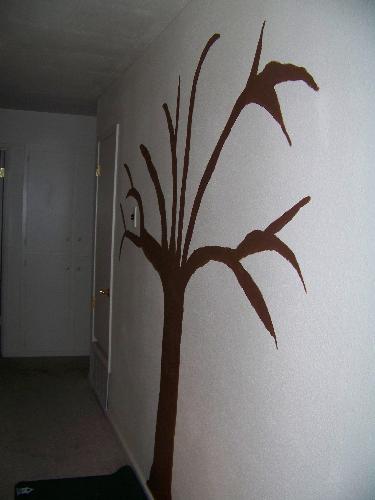 United States
September 18, 2008 1:35am CST
I started a discussion a few weeks ago regarding photos and what do people do with them. I had stated that I was going to paint a tree in my hallway. Well I drew the tree and painted it today. You have to realize I am not an artist, I did this free had. To me it looks like a Halloween tree but it has not leaves. I am going to start hanging photos from each branch and then fill in where ever I want to. I think it will look better. What do you guys think? Can someone give me guidance as to where to go from here?I was not going to put leaves on the tree but I might have to. What would you do to make the tree look better?
10 responses

• United States
18 Sep 08
Since you painted the kind of tree that has leaf changes throughout the year, how about buying seasonal kinds of leaves so you can tape the leaves of the specific season onto your tree. This way, the tree will change along with the seasons. For instance, in spring you could put on smaller new leaves and buds, in summer, full growth of leaves, in fall, the autumn colored leaves including leaves on the ground, and in winter, you could find some snow to put on the tree along with a few straggling leaves. This would give you some variety throughout the year and make your tree interesting all year long. I really love the idea you had about the tree and the photos. I hope you share future pictures with us as it progresses.

• United States
21 Sep 08
I love your idea with the changing of the leaves. I am not sure I could keep up with it because I do not decorate for different season. But it is a great idea.

• United States
18 Sep 08
Hey tea, It's beautiful! Hard to believe you don't draw! I think it came out really nice. It's going to look great once you get the photo's on it. You might want to add some more branches coming down so that you can have some more room for the photos to hang and that way you can put even more of them on. The tree looks like a real tree! I know I couldn't have done it, but I sure wish I could because it really is such a great idea! Can't wait to see it all finished. I know it's going to be incredible! Your Grandma would be really proud of you tea! I know she is going to be smiling down of you!

• United States
21 Sep 08
I am not sure if I am going to add more branches. I am going to fill in between the branches with more photos. At least that is my plan for now. A friend came over yesterday and saw it. She loved it, she also saw my canning and was amazed I can can fruit and veggies. She is a career woman and that I how I met her. I wish I could still be working full time, but now that I am not I have time for my creative side to come out. My friend owns a medical supply company and her husband works two jobs. Once they settle down and they both retire I know she will learn how to be creative. I think we will always be friends and she will be coming to me to teach her how to do some of these things.

• United States
18 Sep 08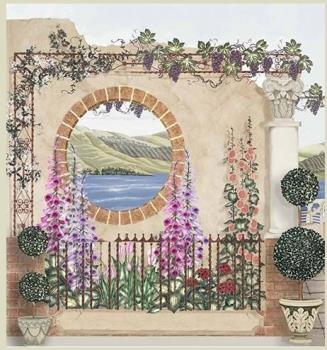 My Mom used to know a woman a long time ago that was a great painter. She told me about how her friend, Loraine, painted this gorgeous picture in the front hall of her home on the wall. It was a huge picture of a black panther laying on a large flat rock with the sunset setting behind it. It had a jungle theme behind it and looked just breathtaking. My Mom used to love to just stand and stare at it...she said it looked like you could just reach out and pat the panther on the head. Then one day she went over to visit and it was painted over. She was shocked that her friend had painted over something so beautiful. Loraine said she was bored with it and wanted to paint something else. I would love to have talent like that. I remember seeing a picture of a wall in someone's home that was stenciled to look like the doorway of an Arabian palace...complete with pillows in the background. It really looked like you could walk right in. I couldn't find a pic of it right now but here's another mural...it is painted right on the wall but you wouldn't know it to look at it. It is made with Dressler's stencils. [b]**AT PEACE WITHIN** ~~STAND STRONG IN YOUR BELIEFS~~ [/b]

• United States
18 Sep 08
I would love to have that talent also. I guess people with that talent know they just can paint a new picture where us folks can only drool what they do. I do needle work and tear out what I make if I do not think it looks good so in a sense I am the same way. I know you make quilts so you see your flaws where I do not quilt I cannot see them. We all have our own talents.

• Malta
18 Sep 08
i think that is a very original idea,congratulations but if i were you i will not make leaves because when you will attach photos it will cover the wall and even the leaves.even if the photos are not of the same size they will make a better effect on the wall

• United States
18 Sep 08
Thanks I had not decided if I was going to put leaves on the wall or not. My son's girlfriend says to put silk leaves between the photos. Staple them on I might try that around some of the photos to see how they look.

• Australia
18 Sep 08
Hello, That is a fantastic idea and it is going to look great when you get it finished can't wait to see it all done. And yeah I agree with some of the others that i think that it does need a little colour and I think that using something from the craft shop to make leaves and place them behind the photo is a good idea and then if you don't like the end product it is easy to change. You have to post a pic when you finish it


• United States
21 Sep 08
A friend suggest for me to paint the frames of the photos green. I may do that on some of them.

• United States
23 Sep 08
That's a good idea. I may try it.

• United States
18 Sep 08
I think the thickness of the outer limbs is part of what is making it look like a "Halloween" tree, and of course, the lack of the pictures. I'd say, hang the pictures and decide at that time if it needs leaves - if you don't feel like painting them, consider picking up some stems of leaves at the craft store and tucking them behind some of the pictures and see if you like that BEFORE you apply paint to the wall. Give yourself several days with them to decide - and you may just chose to go with the craft store leaves if you like them.

• United States
18 Sep 08
Elic you think like my son's girlfriend she said the same thing. She said I can get some greenery from the dollar store. I think I will hang some of the photos and put some greenery around the pictures and see how I feel about it. I might add some of the reddish brown to the bark of the tree to give it some texture the tree a little bit also. Thanks for your idea

• United States
21 Sep 08
OK but I will have to be careful and not break my arm. heehee

• Australia
18 Sep 08
Oh what a great idea, it makes a fabulous feature wall, I wouldn't do too much to the tree or your photos will get lost in it, I think photos will fill the tree out a lot, I love the idea a real family tree...good on you.

• United States
18 Sep 08
The size of photos I have are all 5X7 inches. I think the ones on top will be OK if I use just one person in the photo and not a group photo. My sister has lots of that size frames she is going to give me so I can frame the rest of the photos I have.

• Australia
18 Sep 08
I think it sounds great, I would love to see it when it is finished...

• Canada
19 Sep 08
Firstly, it's a lot better than something I could ever draw, haha (I'm not an artist either). I think photos would look pretty awesome on it. Just make sure you have one on each branch and if possible, get a really big one for the middle of the tree or something. It's up to you though how you think it'll nice. I don't think leaves are necessary, it looks pretty good as it is. It might be a little too much but if you can, maybe add a nice background (clouds, grass, flowers, etc.) I don't know if that's overdoing it though. Why don't you come paint on in my house also? :P

• United States
21 Sep 08
What do you want in your house? Mind you this is the first time I have ever done anything like this. I painted my office besides that I have not done any artsy stuff. I have not started hanging the photos yet. I am still living with the tree and deciding if I want to add some more color on the bark. I have a reddish brown color I can add over the brown. I was thinking on putting a knot hole in the trunk like a an animal could live in.

• United States
18 Sep 08
What a lovely idea! And very creative. My husband is the artist in our house. He could give you more useful advice on what to do next creatively. Though I've dabbled in pastel paintings before. But that was a pic with two cats. Maybe I'll try a tree for my daughter's wall. I'm sure that she'll demand a meadow of flowers with her wall tree and poor mommy will have to paint them! She'll love that idea!

• United States
21 Sep 08
Good luck poor mommy. I never have done anything like before. I am surprised that my husband went along with the idea. He use to poopoo every time I wanted to make a change in the house. He sure has mellowed out.

• Philippines
18 Sep 08
I remember that discussion... and i think i responded to it... that is a very good start... yes, i think you need to put some leaves just to add more color... or you can just add the color green as background for each picture frame... that way it will look like the leaves are holding the pictures... well that is just a thought... But very nice work...

• United States
18 Sep 08
Thanks for your response my friend. You might be right I might need some color because the frames are mostly brown and the tree is brown. I wish I could paint animals I would put some rabbits near the bottom of the tree.