Being a father

India
9 responses

• India
23 Sep 08
hi dear friend.. i think father should responsible for take care of both his children and his wife.. and he should handle all the external things,, he should responsible for the better future of his children,, he should start saving.. and most important thing he should spend and share some time and love for his family apart form his busy schedule. have a nice day..


• India
24 Sep 08
yes it is most important for being a good father.. psychologically it will helps your family for better attachment and involvement form every members of family... it is also good for the future of our children.. thanks have a nice day..


• Philippines
21 Sep 08
I am a father of 2, my eldest is a 12-year old young lady and my youngest is 7. They are my inspirations in everything that I do. Besides being a good provider and a protector, I think being a good adviser and being there when they need answers to their simple questions are among them. My children are very curious about things around them and I am glad I am always available to entertain them. I also think that a father should also be a great leader and the one children can look up to.

• Philippines
20 Sep 08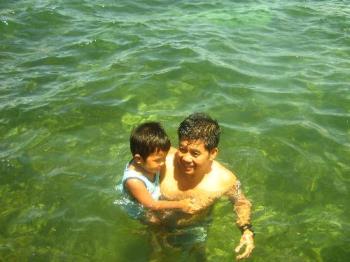 What is being a Father: 1. Being a father is to provide for your family. 2. Being a father is to teach your children the fear what is good and what is bad and to give loving discipline to your children. 3. Being a father is to love and minister your wife 4. Being a father is to protect your family I relation I wish to share this beautiful Beautitude: A Father's Beatitude - -- written by Rev. Joseph C. Miller, 1997 Blessed is the man that receives the Heavenly Father as Lord of his Life. Blessed is the father that will lay down his life for his wife and children. Blessed is the father that offers to wash the dishes and tend to the baby, so mother can have a break, even after his long day at work. Blessed is the father that can attentively and patiently listen when he gets home, to crying children, and an exhausted and frustrated wife. Then be able with a smile, to offer comforting and soothing words, regardless of his feelings and frustrations. Blessed is the father that takes the time to read the Bible to his children and pray with them, teaching them to receive his Heavenly Father as their Lord. Blessed is the father that disciplines his children with love, making sure his life is a loving example of his Heavenly Father. Blessed is the father that can patiently listen to his teenagers, when they are telling him that he is too old and doesn't understand today's world. Blessed is the father that spends late nights and lonely hours in intercessory prayer for his wife and family, so he will be able to allow his Heavenly Father's love, patience, longsuffering, meekness, temperance, forbearance and forgiveness, to be seen and expressed in demanding and opportune moments. Blessed is the father that is able to praise the Lord while the house has run amuck, mending his families hurts, frustrations, disciplining, and handling financial disruption, all the while, knowing the right words to say in love. Blessed is the father that teaches and leads his family into becoming a Family of God. Blessed is this humbled father, this unselfish man, who lovingly leads this home, as it has been taught to him by the Heavenly father, through His son Jesus Christ! God bless!

• Philippines
19 Sep 08
Here in my country, or maybe here in my household the basic responsibility of my husband is to work hard and provide for our daily needs. I was not expecting more from him, it is enough for me that he is taking care our financial needs. I am not expecting him to take care and discipline the kids. I am not asking him to look after our kids. I knew that he very tired from working and so the last thing he wants is to be tired from taking care of the kids. But my hubby makes time playing with our kids, although the cleaning up their mess is always my part.


• India
19 Sep 08
Dude , help her to learn how to survive on her own in future after she gets married.help her to be independent always..my regards to her..hope her father would do this as a responsibility...good luck..happy parenting my friend...

• Indonesia
19 Sep 08
I think the most important role of a father is to protect the family. He has to be able to protect his family from danger, from things that would harm the harmony of the family. Not only physical protection, but also protect the whole family from fear, disturbance and things that could makes the family member upset. I believe that many people would think that a father should be able to earn a living for the family, I don't think that way. When it comes to make a living, either father or mother can do that, but protecting the family is the main idea of a father's job

• Philippines
19 Sep 08
Well for me being a father is being a provider. You provide for the shelter, food and clothing. Soon, education. Though the most important of them all is guidance. You must guide your children in order for them to have a spiritual life and well-established values that they will have until the end of time.

• India
25 Sep 08
In todays world father should be more like a friend than a silent spectator or a discipline maker. Mothers are supposed to be strict and also primarily involved in imbibing values and traditions in the kid. Kiddos generally look upto father who is more relaxed, more like a person whom they can look up when Mom has scolded, the one who approves a chocolate or a TV program when Mom has not allowed it. Fathers also need to be athletic, kids like to jump on their tummy, ride their shoulders and back , glide down their legs. Father should be a park at home :D Sounds crazy ??? You will find yourself doing all this once yuor little angel is 2+ years. Also mothers get tensed if the child has slightest of the health problem like cold ,cough and fever. Its Fathers responsibility to calm her down and share the care. Enjoy Fatherhood Cheers!!!!

• Malaysia
24 Sep 08
Being a father is the best part that I play in my life until today. I so proud to be a father, but in the same time time worrying if I have give my best to my son. Anyway for your question I think the most important responsibility that we should do is to guide our kid to the right path. It's not easy. To find the right path is difficult, and to guide other to right path is more difficult. Anyway we must try our best, and let God decide what is the best for His creature...