Drink coca cola and get rewards in "My coke rewards.com"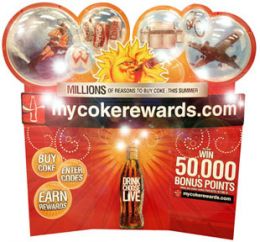 United States
September 19, 2008 8:12am CST
Now a days i am drinking coca cola and collecting points. when i reached 750 points i will reedeem it and get rewards in my coke rewards .com. Drink coca cola you and get your gift its free..
4 responses


• United States
19 Sep 08
I am a member at My Coke Rewards also. I think I'm going to have to drink a whole lot of Sprite Zero to reach 750 points. Also, I haven't found anything on there I'd really like to redeem points for.


• Malta
19 Sep 08
I don't drink coke or when I do it is on a rare occasion on a hot summer day. I don't think they are healthy drinks. I prefer water or tea or coffee instead of soft drinks