Do you think "Interview with the Vampire" should be included in the 1001 books?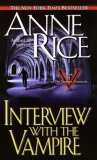 Philippines
September 20, 2008 1:43pm CST
I came across the book entitled "1001 books you must read before you die" in our local bookstore and was intrigued by it. So I searched it in the internet and found the list. As I view the sites, I saw some comments regarding "Interview with the Vampire" being included in the list. They were questioning it and since I haven't read the book I want to ask it here. Why do you think "Interview with the Vampire" by Anne Rice should be in the list?
4 responses

•
20 Sep 08
I sort of liked it. Compared to some of Anne Rice's other vampire novels it's certainly easier to read and a lot less bizarre. I suppose the thing about "1001 books you must read before you die" is that it's not just going to include classics like Great Expectations or War and Peace etc, but it wil have cult books in there too. "Interview with the Vampire" is certianly a cult book and worth reading just to say you have read it. I feel the same about "American Psycho" which is also on the list. In many ways I hated that book, but I can see why it's on there all the same.

•
20 Sep 08
I'm actually in the process of ploughing through "Great Expectations" myself at the moment. It's certainly a well-written, well-crafted story, but certainly not if you want a light read. I made the mistake of trying to read it after finishing my English degree and I think after three years of heavy-going novels I needed some light trash. But i'll definitely get through it some day. "Bleak House" by Dickens is brilliant too, and the BBC series of it (i'm a big fan of any costume dramas the BBC does) is fantastic.

• Canada
20 Sep 08
Would that not make it 1002? There are some on the list that I would not want to read. And some I read and did not like. I really do not books that work on one's guilt. I never did like vampires anyway. And I do not think you have to read the whole list. I do not want a book to change my own philosophy on life, and I think that is the reason for that list, to alter our perspective. So why were they chosen, to change our perspective, to show what it was like at that time or because the writer really knew how to make you be drawn into the book? That would be a good reason.

• Philippines
20 Sep 08
I think the list was made to be a reference perhaps. And not all best selling books were included in the list. I was looking for a good book and since I found the list I might as well try to read some, because reading all 1001 would take years, as in YEARS to finish. Happy myLotting!

• India
20 Sep 08
I have not read the book. I have seen the movie An interview with the Vampire starring Tom Cruise etc. If it is the same story I can say it is a very good story. i do not find any reason not to include it in that list.

• Philippines
20 Sep 08
Oh I see. Haven't read the book and watched the movie in full (just parts). Some people say it's good but some say it shouldn't be in the list. Hope I receive a response stating it shouldn't be included so that i can see both sides. Thanks. Happy reading.

• Philippines
21 Sep 08
I have seen the movie. I think it would be a good read. And with a lot of good reviews with it. I think they should have included it in the list. I don't know what their criterias of getting the book in the list. I like to read these 1001 books before I die. LOL