Have u ever felt rejected by ur love?

India
September 20, 2008 3:03pm CST
Friends have u ever felt that the person u love the most...probably the person u cant live without is rejecting u just because he / she is probably in true love with another person? I understand it is not the other persons fault but what happens to the other lover? Does one relation end forever or is it a fake relation that runs with the name of friendship?
1 response

• United States
20 Sep 08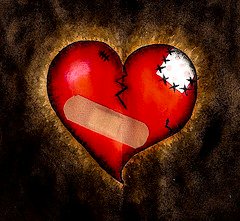 I have been on
BOTH
sides of the rejection!!! I have been rejected for another & I have rejected another because I didn't love them. It was
NOT
their fault that they didn't love me just as it wasn't my fault that I didn't love him. We don't necessarily choose who we fall in love with. And I'm
NOT
gonna lie & say I love you when I don't. I also expect
NOT
to be lied to. Even if I don't like the response, I can accept the honesty. I have remained friends with someone I loved deeply & was there when she walked off & left him.




• India
21 Sep 08
i really dont know what to respond as i know it is right what u all say. Just that i cant accept it that i am the victim everytime, where as the rest get their love in life. why is it me always? Anyways.. there is no answer to my question i know. Just hope that the world be happy.

• United States
21 Sep 08
Looking back, I always seemed to fall in love with someone who was in love with someone else. Seems I felt safe loving someone I knew I couldn't have. I didn't find my true love until I was 50 years old. I loved many in the meantime. But the one true person who I loved & who loved me back didn't happen until I was 50. I can tell you....It
WAS WORTH
waiting for!!! It was soooo
MUCH BETTER
than I had ever imagined!!! Stop looking for love & it will find you. In your push to find love, you may be running it off.




• India
27 Feb 09
Dear lady marissa, its indeed wonderful that ultimately u found ur true love in life. I still want lovein life, but then i think a lot of negetivity has got built up in me and now i have stopped loving everyone because i know that there is nothing called love in its true sence, just that it is more of a show off as a part of the necessities of life. I do not intend to hurt u at all but its the way it strikes me always. Usually love is associated with happiness, but i have only seen people in pain while in love. Truly speaking maybe the pain in love is sweet as long as love is there, but the moment the love is gone the pain becomes unbairable and now i have decided that i will live alone till someone comes into my life herself and truly loves me and not my fame, property, money or anything else. Even now a days i am loosing the faith on God because of this and i am changed. But still i would thank u again for trying to show me an inspiartion and make me positive towards life.