Manchester United to change Shirt sponsor.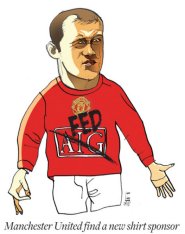 Singapore
September 20, 2008 10:29pm CST
Caught u! hahaha, Man Utd is not going to change their shirt sponsor. But here's an interesting cartoon i found. SOme may have already seen it from my display pic. But anything can still happen right? I'd love to see Man Utd change its shirt sponsor from "AIG" to " FED " haha.
6 responses

• Romania
21 Sep 08
Just today my sister was making fun of me when she saw me wearing my Man Utd T-shirt... I liked the "Vodafone" shirts more, because I felt every time I recharge my prepaid Vodafone cell phone card, a bit of that money goes to Man Utd


• Singapore
21 Sep 08
lol, but u should prefer AIG more, because they are giving more money to man utd den vodofone. 56m for 3yrs!! Compare to 9m a yr with vodofone.

• India
21 Sep 08
well, tats gr8 news for them at the movement, they saved 56 million pounds. if AIG files bankrupcy, then man utd will lose a lot of money. yep, i do agree, changing it to fed may please its us owners and its us fans, and george bush too.....jst kiding, happy myloting.

• India
21 Sep 08
tats a gr8 cartoon, i dint know it untill u said. all these days i thought u changed ur pic to rooney.

• Singapore
21 Sep 08
Excuse me from being blur, but what is 'FED'?

• Singapore
21 Sep 08
Didnt u read the news about US Federal Reserve sets out an $85bn rescue package for AIG to prevent AIG from going down? The FED is referring to the US Federal Reserve. :)

• Indonesia
24 Sep 08
i think man utd isn't going get any difficulties to get the new sponsors if they want to... i am sure there is lot of companies want to sponsoring man utd..

• Singapore
21 Sep 08
How about a big USA on Man Utd shirt? Their US owners will be pleased. George Bush may even visit Old Trafford after he stepped down as president.