Do you keep a watch on the TV programs your kids watch ?

India
September 22, 2008 1:02am CST
I keep a close watch. I don't want my daughter to watch any program that doesnt suit her age group and increase doubts that are unnecessary at this age. At times cartoons are filled with so much of violence and mischiefs that kids tend to emulate. For such reasons I like to keep her away from such programs. I am sure all mothers would be doing this.
3 responses

• United States
23 Sep 08
I agree and when my daughter was younger, we pretty much didn't watch tv. We still don't. When she was little, she watched about an hour a week. But some weeks we wouldn't turn it on at all! Good for you for paying attention to what she is watching!

• United States
22 Sep 08
I usually watch with DS2. I do limit what shows he can watch - we usually have Playhouse Disney or PBS or PBS Sprout on. They repeat things so often that I've probably already seen the episodes, so then I might not watch with him. But I try to at least know what happened so we can talk about it (retelling the story). I see no need for him to watch violent / mischevious shows. He definatley copies what he sees. I also dont' let him watch shows like Barney or Teletubbies. I can't stand them myself, and don't want to have to deal with him wanting all the "stuff" or having to sit through them with him. He thinks they're baby shows. :)

•
22 Sep 08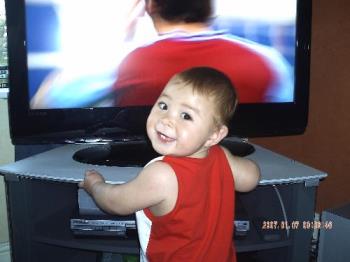 As a mother we really need to monitor and assess our kids for the right tv program that suit to thier age. You do a right thing to keep watch your daughter when she is watching telly. I remember the boy that son of my sister land lady, her kid is very hyper, he always impersonating all the violent actions of the tv program he watched and hurt some kids. So mothers or parents are must guide thier kids for a healthy programs and educational one.