National Customer Service Week is Oct. 6 -10. Did You Know This?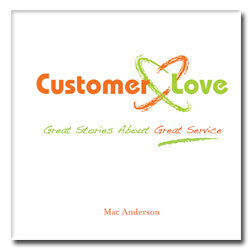 United States
September 23, 2008 5:44am CST
I have special emails come in and this was one of those. I was surprised and thought that this is a good idea. In this day and time good service to customers is out there but there seems to be just as many workers who give bad service to customers. As much as we try to complicate what great service is...it's really pretty simple: It is giving more than the customer expects...consistently. You notice I said simple, not easy. There is a big difference! If you have any stories about either good service or bad service being given by a worker in a store let me hear them. It used to be when I was growing up most of the time a customer got very good service and it wasn't very often that the customer got bad service. Things have changed although I know there are people in the stores that do give good service to customers. So let me hear your stories. There is even a book out, Customer Love. There is a quote which I agree with. It is: "Customer service is not a department...it's an attitude." click on the picture and it enlarges
1 response

• United States
23 Sep 08
Theres this woman at Sam's who was really so nasty that we had to report her bad service (and honestly how bad does it have to be to get reported at SAM'S?) Well, she still works there, but she doesn't even look at the roomie anymore, she just glances in her direction and if she's holding the receipt, she'll not even look at the stuff. I have to say that on the whole I've had good customer service at Sam's when I've really needed it. Except from her, and when we needed some help to get the cat litter in the car and the cart guys just ingored us waiting in the loading section - yep - we called about them too!

• United States
23 Sep 08
My Dad and Mom had a business of their own and it was dealing with customers and my Mom even if she didn't feel good always had a smile and a hi for the customer and went out of her way to help them. Anytime a person gives bad service to a customer I strongly feel they need to be reported. You did the right thing.