Do you believe in angels? Have you seen or felt the prescence of an angel?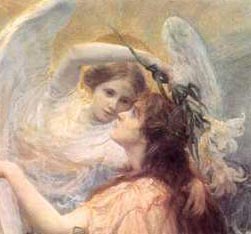 United States
September 23, 2008 9:41pm CST
Have you ever had any experience where you felt angels intervened? Do you believe in angels or not? Have you ever seen an angel?
3 responses


• United States
17 Oct 08
I RESPECT YOUR BELIEF. i JUST BELIEVE THAT THERE ARE SPECIAL ANGELS THAT WORK FOR OUR lORD. I think that souls who depart here and go to heaven become gardian angels. I am not trying to convince anyone of this, It is simply my humble opinion. Appreciate your response and Happy Mylotting!

• United States
24 Sep 08
I do believe in angels and a have most definitely felt a divine presence in various extreme times of need. I have a guardian angel and he told me his name was "James". In my mind he is very like the angel "Michael" in the movie of the same name.

• United States
7 Oct 08

• United States
24 Sep 08
Though I have never seen or encountered an angel, I believe they really exist. I'd really love to know if anyone has experienced the presence of angels.

• United States
17 Oct 08
I believe that there are protective angels that actualy look after us or help us at times. I dont they change any of Gods plans. I think they are helpers and are sent to assist us.APPRECIATE THE RESPONSE, HAPPY MYLOTTING!