saddam hussein? death penalty..

United States
November 6, 2006 9:31am CST
let's talk the death penalty, shall we? the recent announcement of saddam hussein's sentence to death by hanging has caused mixed emotions throughout our nation. i, personally, am completely against the death sentence. i feel that those convicted of crimes "worth" the death penalty should be truly punished by means of permanent isolation rather than just ending their miserable, guilt (or non-guilt) ridden lives. think of it this way - lifelong isolation with absolutely no human contact would drive any human being completely mentally insane. not being able to leave a prison cell for the rest of your life..not being able to speak to anyone..see anyone..have any type of interaction with anyone..to me, that is true punishment. for example, you take away someone's life, you should have your own taken away - but not by death. this world cannot revolve around the whole "an eye for an eye" theory. why? an eye for an eye makes the whole world blind. the thought that death by hanging still exists is absolutely disgusting to me. the fact that said deaths are still publicly viewed is even more disgusting to me. although i do believe that the actions of saddam hussein were wrong, i would much rather see his egotistical and power-trip-overloaded butt in an isolation cell until he withers away to nothing.
1 response

• United States
6 Nov 06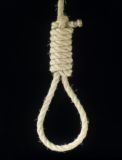 I totally agree with your point, isolation would certainly make me crazy, but hanging it is, let the Lord himself be the judge.