What's Your Biggest Pet Peeve?

United States
November 6, 2006 9:49am CST
Mine is listening to people chew with their mouth open. It's making my eye twitch just thinking about it!
11 responses

• United States
6 Nov 06
Size tags hanging out of peoples clothing. I walk up to perfect strangers and let them know their tag is out. Why do we keep those tags anyway? Do we forget what size we are wearing?

• United States
6 Nov 06
I loathe tags, the itchy little devils that they are. My husband and grandson always ask me to cut them out of their shirts. Me, I keep them, but get annoyed when they pop out.

• United States
7 Nov 06
I don't mind cutting them out if they're extra itchy... but I have to be the one to make that decision! I can't tell you how many times my sister has cut out tags from MY clothes that she's borrowed... talk about a whole different pet peeve altogether!


• United States
7 Nov 06
Materialistic people and people who don't have goals and just settle for what's given to them

• United States
7 Nov 06
my pet peeve is some one coming up to you and just interupting you like no one is talking.

• United States
7 Nov 06
I HATE TAGS! And I hate the fact that my boyfriend is always yelling at me about ripping them out, and he hates when I ask him to cut them, so I rip it out and rip my shirt, I've got like 3 shirts I've done this to - if I could live in tagless tees by Hanes my whole life I would just so I could avoid wearing itchy T-shirts with tags that are practically imbedded in the shirt (yeah! why do the manufacturer's make those things so hard to rip out anyway?).

• Australia
7 Nov 06
I hate when people push the button to cross the roads heaps of times because they think it will make the lights go greener faster. And if a different light goes green then they get mad and hit the button again because the first time didn't work lol Don't they realise traffic lights work on patterns for that time of day? Not by how many people want to cross the road?

• Netherlands
6 Nov 06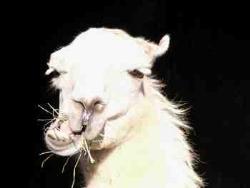 Again, you are right there.... heh heh I hate that the most as well and any sort of mouth-eating noises. Like finger sucking or lip smaking. Ugh *quiver*


• United States
7 Nov 06
Driving slow in the fast lane really gets me bothered. Hidee Ho neighboreeno

• United States
7 Nov 06
dangerous monkey..... hate em'

• United States
19 Nov 06
I don't like when I'm really concentrating on something and someone disturbs me, especially at work. Pretty much people messing around at work gets me really frustrated, especially when I'm working hard.