Would you ever work in a strip club!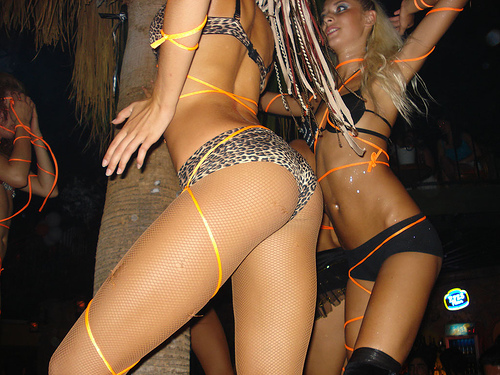 United States
September 26, 2008 10:26am CST
I think the temptation would be too much for me! and I would hate for my kids to find out about it!
7 responses

• United States
26 Sep 08
Sure if I needed the money. It's a job. Just because some places allow physical contact between dancers and customers doesn't mean that's the norm. A reputable club is safe, pays well, and can make a difference in a person's life. I honestly know a woman who put herself through law school by dancing. Another paid for her children's private school education. And still another worked short term to raise the money for her dream wedding.

• United States
26 Sep 08
Probably if the customers were friendly enough to recognize a dancer at Walmart, they had also become friends. I have seen that happen before as well and it's always as a joke between friends. They all laugh and that's the end of it.

• Philippines
26 Sep 08
Nope..I would never ever go down to that level even if we have no food to eat in our table. I think my kids and husband wouldn't like that as well. There are other good places to work at and I don't think a strip club would be a nice place to work at.

• Philippines
26 Sep 08
So true..so true..it doesn't have to be a high paying job as long as it's decent.


• United States
26 Sep 08
Well I am a guy, but I am sure there are clubs out there for women, or the privacy of her home or a motel room would be ok too. I don't really have the body for it, but if a woman wanted to pay me to take my clothes off for her, I would do it. I am not much of a dancer either, but as long as she was OK with that too, it is just basic economics. She is a paying customer, and if me taking my clothes off is what she is willing to buy, I would be happy to supply her demand...especially now that money is so tight while I look for full-time work. LOL

• United States
26 Sep 08
well if i tried i know they would hire my fat butt. lol.. but no i couldn't but i would love to work at one as a bouncer. i used to have a job i made deliveries to strip clubs and adults stores place.. loved it