Got paid by isabelmarco, My first from the ptc industry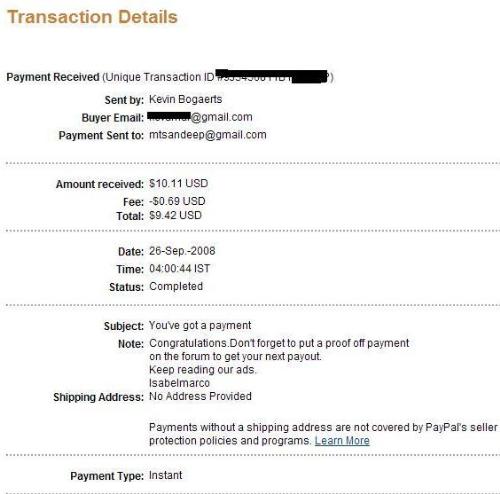 India
September 26, 2008 11:37am CST
Today i got a mail from paypal with $10.12

in it. It was send by isabelmarco. This is my first ptc site that paid me. Now i can say that
some
ptc sites really pays.. I now requested for my next payment of $15, hope they pay it soon.

keep clicking

3 responses


• India
26 Sep 08
It will take upto 40 days for them to process your payment. Evenif they take time, they pays within 45 days.. Hope thay pays you soon. best of luck



• Belgium
27 Sep 08
That's nice to hear. I have a payment pending from them too. It's almost a month now and I hope to get it soon. Did you have to wait long? I heard it could take up to 40 days, is that true?
Have a nice day


• India
28 Sep 08
Yes, they paid me within 45 days sfter the request. hope you get paid soon.