What is the true taste of Chicken Inasal?

Philippines
September 30, 2008 2:36pm CST
Man, the inspiration on food topics sunk in longer that I thought. So this is my contribution to food topics for Philippine members(I just hope someone answers this, as it is 2 hours before sunrise here in the Philippines..) What is the true taste of Chicken Inasal? Can you please give a convincing argument about this. The reason for this inquiry is that I've already eaten Inasal in Inasal Chicken Bacolod and Mang Inasal...Of course the taste from the former is Inasal, I think, while the latter offered something like Chicken barbeque... So I really want someone who originates from Bacolod or even just anyone who can explain to me how a Chicken Inasal is prepared, and how it supposed to taste like. I really love food, and I'm quite the adventurer when it comes to food. Heehee. Have a nice day ahead everyone! Wishing a good day to our fellow muslims who celebrates Eidl Fitr today.(Oct. 1)
2 responses

• Philippines
1 Oct 08
I'm an ilongga and that chicken inasal is superb and mouth watering makes me remember the incident when I was eating at bacolod chicken when a holdup happened. That's history and i would like to share a link for a very sumptous preparation of chicken inasal and will try this myself too. http://www.marketmanila.com/archives/inasal-na-manok-bacolod-style-grilled-chicken-a-la-marketman

• Philippines
1 Oct 08
Ohh...well, thanks for sharing. Have a very nice day!

• Philippines
20 Aug 11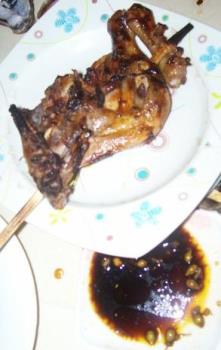 I am not from Bacolod but I have tasted so many versions of chicken inasal and each one is claiming it is the best. But it seems to me that they don't differ a lot. It is just a perfect mix of somewhat sweet, salty barbecue chicken with some different touches I can't really explain. Nevertheless even if I can't explain I can anyway share a photo of one version of Bacolod chicken prepared by a real native of that place.



• Philippines
31 Jul 12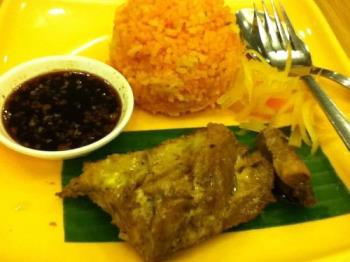 I've just eaten a chicken inasal and this is the picture which I posted below. It is a dry outside but there is some juiciness inside and it is very tasty. I could not really tell now which is the real inasal taste but anyway for as long as they are good tasting I don't really mind whatever is the original.